Si riporta l'andamento odierno dei principali titoli internazionali del settore tecnologico e del settore delle telecomunicazioni.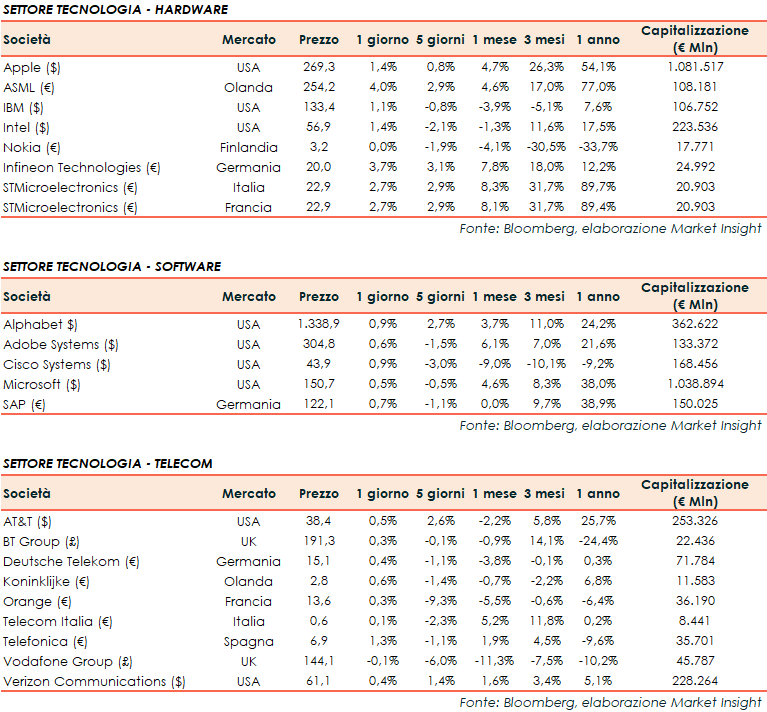 Chiusura di settimana all'insegna degli acquisti sulle principali piazze azionarie: il FTSE Mib avanza dello 0,93%, il Dax 30 dello 0,75%, il Cac 40 dell'1,07%, il FTSE 100 dell'1,36% e il Dow Jones dell'1,03%.
Baird ha confermato il rating outperform su Cisco Systems ma tagliato il target price da usd 54 a usd 52
La Competition and Markets Authority britannica ha emesso un ordine restrittivo contro Alphabet (+0,9%) in merito alla proposta di acquisizione di Looker Data Sciences da parte di Google. Nello specifico, la disposizione limita la portata delle integrazioni tra le due società.
Daiwa ha alzato la valutazione di Lenovo da hkd 6,5 a hkd 7 ad azione.
Huawei Technologies ha fatto ricorso alle vie legali e ha fatto causa alla Federal Communications Commission che ha deciso di limitare ulteriormente il business del Gruppo cinese con i pochi clienti rimasti negli Stati Uniti.
Su Intel (+1,4%) Bank of America ha alzato il prezzo obiettivo da usd 65 a usd 70.
Una recente indagine condotta da Bva-Doxa, al fine di valutare la soddisfazione degli utenti di Iliad, riporta che il 97% degli utenti intervistati la raccomanderebbe ad amici e parenti.
Infine, su Samsung Electronics Eugene Investment & Securities ha aumentato target price da krw 56.000 a krw 62.000.