Digital Bros ha chiuso il primo semestre dell'esercizio 2019-2020 con ricavi netti per 62,5 milioni, più che raddoppiati (+122%) rispetto al corrispondente periodo dell'esercizio 2018-2019.
Performance trainata dall'andamento del settore operativo Premium Games, i cui ricavi netti sono aumentati del 185,6% a 53,2 milioni e hanno un peso superiore all'85% sui ricavi consolidati. Questo grazie ai risultati di vendita dei videogiochi Control, uscito il 27 agosto 2019, e Bloodstained, lanciato al termine dello scorso esercizio, che nel semestre hanno registrato ricavi rispettivamente per 23,9 e 8,6 milioni.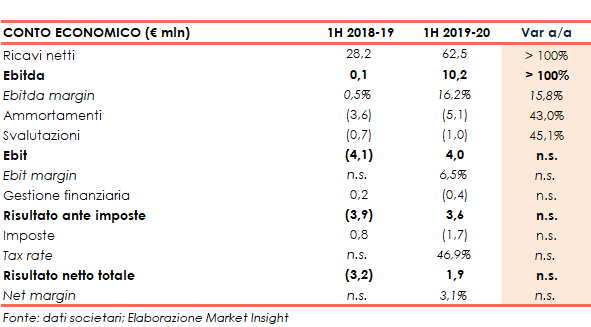 L'Ebitda è pari a 10,2 milioni (rispetto a 0,1 milioni nel pari periodo dell'esercizio precedente), mentre l'Ebit si attesta a 4 milioni (contro una perdita operativa di 4,1 milioni nel semestre 2018-19).
L'utile netto è pari a 1,9 milioni (3,3 milioni al netto delle poste non ricorrenti) rispetto ad un risultato netto negativo per 3,2 milioni nel periodo di confronto.
L'indebitamento finanziario netto al 31 dicembre 2019 è pari a 5,8 milioni, rispetto a 16,2 milioni di fine 2018. Al netto dell'effetto dell'applicazione dell'IFRS 16 per 5,8 milioni, il debito netto è pressoché azzerato.

Per quanto riguarda il prosieguo dell'esercizio, nel secondo semestre Digital Bros beneficerà del lancio di Journey to the Savage Planet, avvenuto a gennaio 2020, dell'uscita di Assetto Corsa Competizione nelle versioni console nel quarto trimestre e di Death Stranding per PC il 2 giugno 2020.
Digital Bros stima che l'aumento dei ricavi possa comportare un significativo miglioramento di tutti gli indici reddituali, particolarmente nel quarto trimestre. Questo anche grazie al crescente peso percentuale dei ricavi derivanti dalla distribuzione digitale (a scapito dei ricavi da distribuzione retail) che, oltre a generare migliori margini, presentano un assorbimento di capitale circolante significativamente più contenuto.
L'indebitamento finanziario netto è previsto in aumento nel corso del terzo trimestre salvo poi ricominciare la fase di discesa. Le previsioni di crescita del terzo trimestre sono influenzate dall'investimento, con uscite finanziarie di 11,7 milioni, che il Gruppo ha realizzato nel corso di gennaio e febbraio sulle attività relative a Starbreeze.