La digital platform company archivia un 2019 di transizione, che l'ha vista riorganizzare parte del proprio business nell'area communication, ed ora si appresta a rafforzare il proprio posizionamento nel mercato della trasformazione digitale. Il nuovo piano 2020-2022 approvato a marzo prevede un ritorno all'economicità della gestione nel prossimo biennio attraverso l'ulteriore rafforzamento dei prodotti tecnologici proprietari, con forte focus verso gli sviluppi Internet of Things, Blockchain e Artificial Intelligence, mentre l'azionista di maggioranza Orizzonti Holding continuerà a fornire il supporto necessario.
Modello di Business
Nata nel 1988 Softec è la prima digital platform company attiva nel mercato della data enabled digital transformation con focus sulla Customer Experience.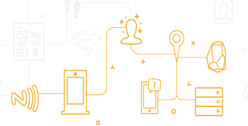 Intenzionata a rappresentare un'eccellenza nel panorama del mercato italiano della trasformazione digitale, la società opera attraverso leve quali l'innovazione continua in base ai modelli emergenti, il dominio dei canali di comunicazione, il data management e la loro analisi, nonché la redazione di contenuti di qualità che consentano l'ingaggio dei propri clienti.
La società supporta aziende di settori diversificati nel raggiungimento delle massime potenzialità dei propri canali digitali, grazie alle competenze vantate in quattro principali aree di riferimento: Platform, Communication, Data Driven Marketing e Digital Transformation.
Platform – è la divisione specializzata nella progettazione e sviluppo di soluzioni per il business basata su tecnologie proprietarie come DesktopMate, Orchestra e Orchestra Robotics BMS.
Communication – prevede un insieme di servizi e soluzioni consulenziali finalizzati allo sviluppo del business attraverso un'eccellente presenza sui canali digitali. Tale area comprende nel dettaglio servizi di Digital Experience & Service Design, Digital Strategy & Communication, Solution Building e Data Management.
Data Driven Marketing – area dedicata alla progettazione e realizzazione di ecosistemi digitali che siano rilevanti per gli utenti e alla base dell'incremento del ritorno dagli investimenti per i clienti. In funzione dei servizi erogati si sottolineano le seguenti attività: Content Marketing, Display e Video Advertising, Search Engine Optimization, Search Engine Advertising, Lead Generation, Direct E-mail Marketing, Social Advertising&Management.
Digital Transformation – servizi tecnologici e consulenziali di Digital Experience & Service Design, Technology Design, Technology Development volti a favorire la progettazione e lo sviluppo di soluzioni omni canale e progetti IT.
DesktopMate, Orchestra e Orchestra Robotics
DesktopMate è una piattaforma di Mobile Application Management e Mobile Device Management che consente di gestire dinamicamente i servizi erogati attraverso i device mobili. La piattaforma integra insieme alla gestione dei servizi, la gestione e il controllo degli smart object e viene erogata sotto forma di servizio, cambiando il paradigma delle mobile application. Le caratteristiche uniche della piattaforma consentono la creazione di un innovativo canale di comunicazione diretto con gli utilizzatori finali attraverso una messaggistica push.
Orchestra è una piattaforma proprietaria "cloud based" in grado di offrire soluzioni omni canale che coprono le diverse fasi, dall'engagement al customer service, fino alla commercializzazione del prodotto. La piattaforma consente la raccolta, aggregazione, consultazione e correlazione dei dati di fruizione degli spazi fisici e non, con l'obiettivo ultimo di fornire informazioni anonime o profilate volte a migliorare la user experience.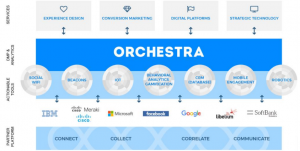 Similmente agli strumenti di analytics dei siti Web, la location analytics di Orchestra permette lo studio e l'approfondimento dei movimenti dei clienti all'interno di uno spazio fisico, individuando così opportunità ed eventuali criticità.
La combinazione dei dati e delle informazioni raccolte consente pertanto di comprendere le reali esigenze del potenziale cliente, con la possibilità di attivare e tradurre il tutto in azioni di marketing consapevoli e mirate.
Orchestra Robotics BMS è la piattaforma innovativa di Behavioural Management System, integrabile in Orchestra, che guida lo sviluppo di applicazioni, deploy e gestione di flotte di robot umanoidi, abilitando la raccolta di KPI e dati analitici di dettaglio. Un prodotto modulare e scalabile che supporta l'intelligenza artificiale attraverso l'integrazione con Microsoft Azure, IBM Cloud e TensorFlow.
Il passaggio di proprietà: l'Opas Orizzonti Holding su FullSix- Softec
Nel 2018 Orizzonti Holding (OH) ha completato l'offerta pubblica di scambio obbligatoria con corrispettivo alternativo in denaro promossa sulle azioni FullSix e Softec.
L'operazione prevedeva l'offerta di azioni ordinarie di MyAv (startup controllata da OH), finalizzata allo scambio con azioni FullSix e Softec (all'epoca controllata al 50,43% da FullSix) nell'ambito delle rispettive Opa.
Orizzonti Holding aveva lanciato un'Opas (offerta pubblica di acquisto e scambio) su massime 5.602.028 azioni ordinarie FullSix (pari al 50,10% dei diritti di voto e del capitale sociale di FullSix) e successivamente, a cascata, un'Opa sulla totalità delle azioni ordinarie Softec sul 49,57% del capitale (quota al netto delle azioni detenute da FullSix).
Dopo aver ristabilito il flottante di Softec, ad esito del trasferimento sopra indicato, Orizzonti Holding S.p.A. deteneva direttamente 988.241 azioni ordinarie Softec rappresentative del 39,6% del capitale sociale della stessa, e indirettamente attraverso FullSix 1.259.673 azioni ordinarie (50,43% della stessa).
Conto Economico
Il 2019 ha rappresentato un anno di transizione, caratterizzato da una riorganizzazione strategica del business nell'area Communication, con una riduzione delle attività a bassa marginalità. Il giro d'affari si è attestato a 6,7 milioni (-30% a/a), scontando anche alcuni ritardi nell'ultima parte dell'anno sul budget dei ricavi.
L'Ebitda si è attestato a 0,3 milioni, a fronte di 0,9 milioni dell'esercizio precedente, mentre l'Ebit è negativo per 0,7 milioni (positivo per 26 mila euro nel 2018). L'esercizio si è chiuso infine con una perdita netta di 1 milione, rispetto ai 41 mila euro del 2018.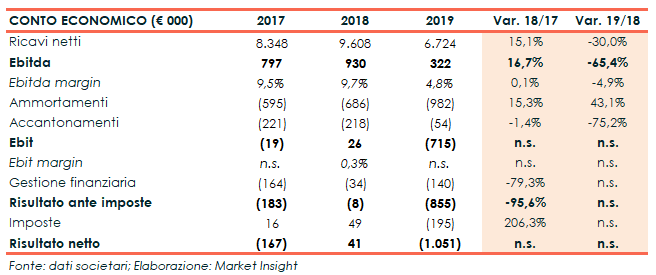 Stato Patrimoniale
La posizione finanziaria netta al 31 dicembre 2019 risultava negativa per 2,5 milioni, in aumento di 0,5 milioni rispetto a fine 2018, principalmente a seguito dell'applicazione dell'IFRS16.
Ratio
L'analisi degli indicatori di bilancio mette in evidenza una situazione patrimoniale sotto l'1x.

Nel 2017 e 2018 i ratio indicavano una buona sostenibilità del debito, con il rapporto PFN/Ebitda rispettivamente a 1,7x e 2,1x: la contrazione registrata a livello di Ebitda nell'esercizio 2019 ha tuttavia impattato negativamente sulla dinamica di tale indicatore.
Outlook
Ad inizio 2020 la struttura manageriale di Softec si è rinnovata. Il nuovo management intende "rafforzare la trasformazione avviata dall'azienda e ottimizzarne il posizionamento, costruendo una realtà solida in Italia in grado di offrire un sistema integrato di piattaforme e strumenti digitali, con un forte focus verso sviluppi di Internet of Things, Blockchain e Artificial Intelligence".
Le attività aziendali saranno focalizzate nel medio periodo dal data driven customer experience, allo sviluppo di sistemi di Artificial Intelligence applicati ai processi di business.
Il 2020 vedrà inoltre il management impegnato nel raggiungimento di un equilibrio economico, come indicato nel budget economico-finanziario dell'anno, approvatolo scorso 3 marzo 2020.  In tale occasione il Cda ha approvato anche il nuovo Piano Industriale 2020-2022 che prevede la realizzazione di partnership industriali e societarie.
Il piano stima una "crescita dei ricavi caratteristici nel breve periodo sino ai livelli realizzati storicamente da Softec, attraverso l'ottimizzazione della struttura e delle attività commerciali, la realizzazione di accordi sinergici e lo sviluppo ulteriore del portafoglio clienti nella Digital Transformation".
Si segnala infine che, date le incertezze legate al fenomeno Covid19, il socio Orizzonti Holding continuerà ad accompagnare Softec con l'accesso alla propria tesoreria: Orizzonti Holding renderà disponibili alla società tutte le risorse finanziarie necessarie per consentirle di far fronte alle proprie obbligazioni nella misura e nei tempi richiesti almeno per i prossimi 12 mesi.
###
Resta sempre aggiornato sul tuo titolo preferito, apri l'Insight dedicato a Softec