Si riporta l'andamento odierno dei principali titoli internazionali dei settori della Sanità e della Chimica: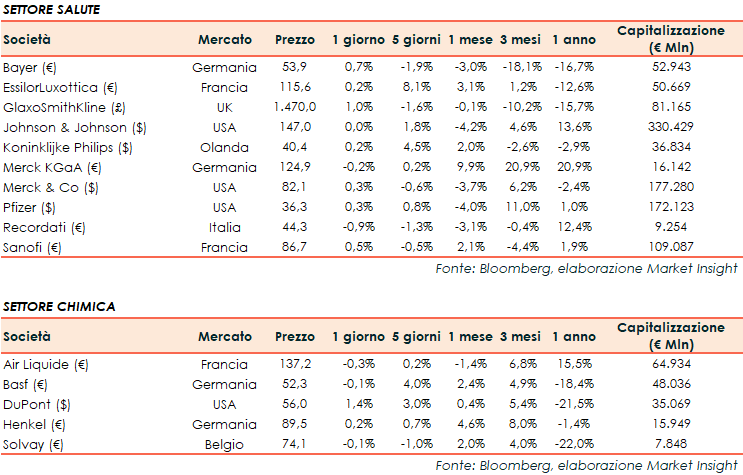 Giornata di acquisti per i principali indici azionari: il FTSE Mib avanza dello 0,36%, il Dax 30 dello 0,28%, il Cac 40 dello 0,26%, il FTSE 100 dello 0,11% e il Dow Jones dell'1,31%.
Moderna ha pubblicato risultati preliminari dello studio di Fase I sul suo candidato vaccino contro il Covid-19 sulla rivista scientifica The New England Journal of Medicine. I dati preliminari suggeriscono che il vaccino sia in grado di innescare la produzione di anticorpi neutralizzanti in soggetti di età più avanzata a livelli comparabili a quelli dei soggetti adulti più giovani.
Becton Dickinson ha reso noto che il proprio test rapido per il Covid-19 per l'uso sul sistema BD Veritor Plus ha ottenuto il marchio CE in base alla Direttiva IVD.
Regeneron ha riferito che il proprio farmaco sperimentale contro il Covid ha contribuito a ridurre la gravità del virus e a migliorare i sintomi nei pazienti non ricoverati.
Covestro acquisterà l'unità resine e materiali da Dsm per un prezzo totale di eur 1,6 miliardi.