Si riporta l'andamento odierno dei principali titoli internazionali del settore media: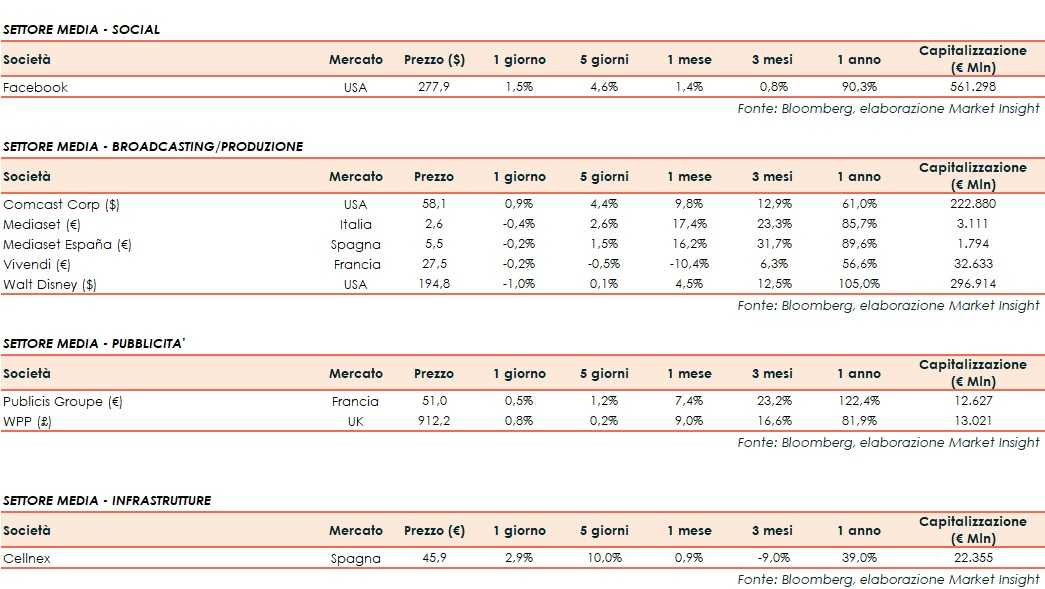 Giornata in lieve rialzo per i mercati azionari. In Europa, il Ftse Mib guadagna lo 0,4%, il Dax lo 0,9% e il Ftse 100 lo 0,5%. A Wall Street, lo S&P 500 avanza dello 0,2% e il Nasdaq dello 0,9%.
La News Corp di Rupert Murdoch ha raggiunto un accordo di fornitura di contenuti con Facebook (+1,5%) in Australia. Si tratta di un passo verso la risoluzione di una controversia che ha visto il gigante dei social media chiudere brevemente migliaia di pagine nel Paese.
L'accordo, i cui termini non sono stati divulgati, fa di News Corp il primo importante media a sottoscrivere un accordo con Facebook in base alle nuove leggi che permettono ad un arbitro nominato dal governo australiano di fissare le tariffe se le aziende non riescono a farlo.
Facebook sta lanciando uno strumento negli Stati Uniti su dove ottenere i vaccini Covid-19, fornendo un link per prendere un appuntamento, e aggiungendo un'area informativa Covid-19 al suo sito di condivisione di foto Instagram.
Netflix (+1,6%) ha ottenuto 35 nomination agli Oscar per 16 film, tra cui "Mank" e "The Trial of the Chicago 7", guidando un pacchetto di servizi di streaming che ha offerto film a casa mentre la pandemia di coronavirus ha costretto alla chiusura i cinema.