Si riporta l'andamento odierno dei principali titoli internazionali dei settori della Sanità e della Chimica.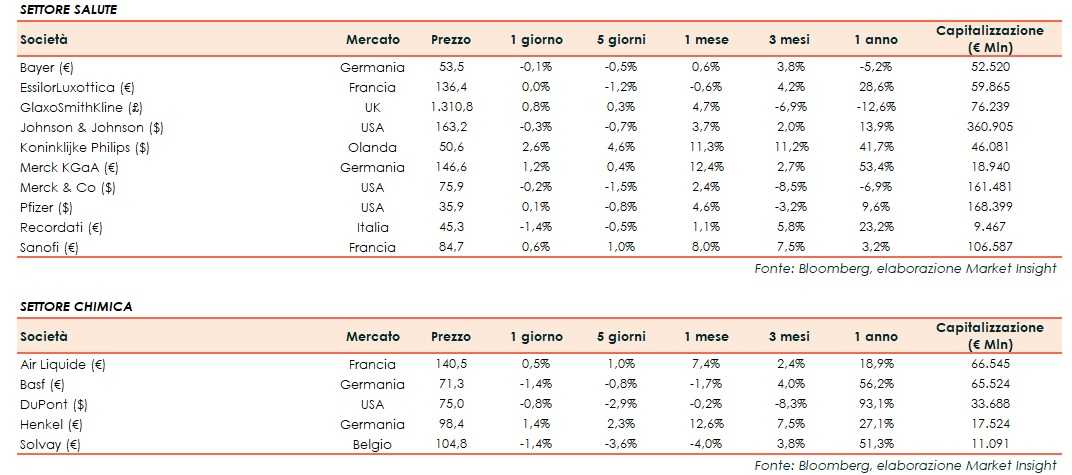 Seduta incerta per i mercati finanziari. In Europa, Ftse Mib -0,6%, Ftse 100 +0,4% e Dax +0,1%. A Wall Street, Nasdaq +0,8%, S&P500 +0,2% e Dow Jones -0,2%.
Guida Philips con un rialzo del 2,6%.
L'Ad di Sanofi (+0,6%) Paul Hudson ha delineato diversi progetti chiave che l'azienda implementerà per aumentare l'impatto della sua strategia di responsabilità sociale d'impresa (CSR). L'impegno dell'azienda si basa su quattro pilastri: accesso ai farmaci, supporto per le comunità vulnerabili, salvaguardia dell'ambiente, e inclusione e diversità dei suoi dipendenti.
Inoltre la società ha annunciato i risultati positivi dello studio su sutimlimab in persone con malattia da agglutinine fredde pubblicati sul New England Journal of Medicine
Pfizer (+0,1%) ha annunciato che la Food and Drug Administration  ha esteso il periodo di revisione prioritaria per la New Drug Application (NDA) su abrocitinib per il trattamento di adulti e adolescenti con dermatite atopica da moderata a grave.