Si riporta l'andamento odierno dei principali titoli internazionali del settore media: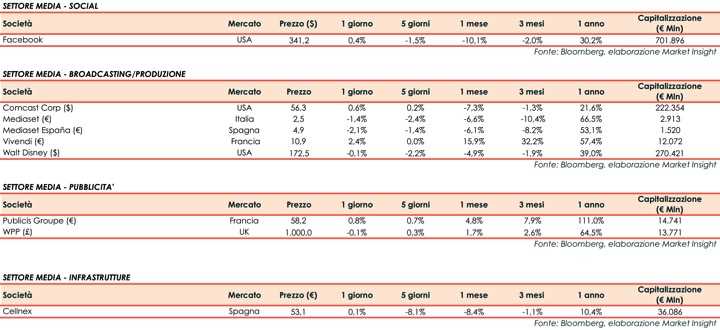 Giornata debole per le borse europee: in Europa, il Ftse Mib cede lo 0,3%, il Dax lo 0,5% e il Ftse 100 lo 0,2%. A Wall Street, il Nasdaq guadagna lo 0,7%, lo S&P 500 lo 0,3% e il Dow Jones lo 0,1%.
Facebook (+0,4%) sta portando la funzione di Instagram Reels alla sua app principale negli Stati Uniti, su iOS e Android. I video in forma breve possono essere trovati "nel News Feed o nei gruppi, e quando si visualizza una bobina su Facebook, si può facilmente seguire il creatore direttamente dal video, come e commentare, o condividerlo con gli amici", dice Facebook.
E sta arrivando con un nuovo programma di bonus per i creatori, parte del suo impegno a investire 1 miliardo di dollari con i creatori sulla sua piattaforma. Un bonus Reels Play paga i creatori in base alle prestazioni; inizierà solo su invito negli Stati Uniti e "potenzialmente" si espanderà a livello globale nel tempo.
In particolare, "simile a Instagram Reels, inizieremo presto a testare annunci a tutto schermo e coinvolgenti tra le bobine per aiutare le piccole imprese e i marchi a connettersi con un nuovo pubblico in modi piacevoli".
Facebook ha in programma di testimoniare in un'udienza al Senato oggi sugli effetti dei suoi prodotti sulla salute mentale dei giovani, secondo quanto riporta Reuters.
Antigone Davis, capo globale della sicurezza di Facebook, dettaglierà gli sforzi precedentemente annunciati dalla società per proteggere meglio i bambini e gli adolescenti online, tra cui l'impostazione predefinita degli utenti sotto i 16 anni su account privati quando si uniscono a Instagram, secondo la testimonianza.
"La nostra ricerca ha mostrato che molti adolescenti che sono in difficoltà dicono che Instagram li aiuta ad affrontare molte delle questioni difficili che sono così comuni per essere un adolescente", dice la testimonianza scritta di Davis secondo quanto riferisce l'agenzia.
Il tutto arriva dopo che il Wall Street Journal ha riportato che la ricerca interna di Facebook ha scoperto che la sua app Instagram era dannosa per una parte considerevole dei suoi milioni di giovani utenti.
La serie di successo di Netflix (+2,5%) "Squid Game" dalla Corea del Sud è diventata virale in tutto il mondo e online trasformando i giochi d'infanzia popolari prima dell'era digitale come "Red Light, Green Light" in sfide mortali di sopravvivenza.
Walt Disney (-0,1%) lancerà l'attesissima nuova serie di Star Wars "The Book of Boba Fett" esclusivamente su Disney+ il 29 dicembre 2021.
WPP (-0,1%) e Snap, proprietaria di Snapchat, hanno siglato una partnership globale di realtà aumentata con il quale i marchi e le agenzie possono utilizzare intuizioni e dati proprietari per informare lo sviluppo creativo e della campagna. Il team-up, noto come The AR Lab, combinerà la tecnologia AR di Snap con le capacità integrate di WPP attraverso creatività, media, commercio e tecnologia.