Si riporta l'andamento odierno dei principali titoli internazionali del settore media: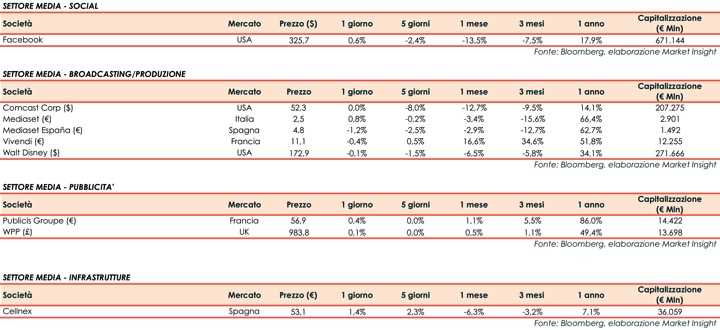 Proseguono senza una precisa direzione le borse europee. Il Ftse Mib cede lo 0,1%, mentre il Dax guadagna lo 0,7%. Invariato il Ftse 100 di Londra. A Wall Street il Nasdaq guadagna lo 0,4%, mentre lo S&P 500 e il Dow Jones cedono rispettivamente lo 0,2% e lo 0,5%.
Facebook (+0,6%) ha siglato una partnership con Open per il fact-checking in Italia. Insieme svolgeranno il proprio lavoro di analisi su Facebook e Instagram in Italia.
Il presidente del Comitato del Commercio del Senato Maria Cantwell martedì ha invitato l'amministratore delegato di Facebook, Mark Zuckerberg, a preservare tutti i documenti relativi a una testimonianza della scorsa settimana da parte dell'ex dipendente Frances Haugen.
"La testimonianza solleva preoccupazioni significative sul fatto che Facebook abbia ingannato il pubblico, i regolatori federali e questa commissione. Questo comitato continuerà la sua supervisione e il lavoro per perseguire la legislazione per proteggere la privacy dei consumatori, migliorare la sicurezza dei dati e rafforzare l'applicazione federale per affrontare i danni digitali che sono oggetto di queste audizioni", ha affermato Cantwell secondo quanto riferisce Reuters.
Il portavoce di Facebook Andy Stone ha affermato in risposta che l'azienda non ha "assolutamente alcun incentivo commerciale, nessun incentivo morale, nessun incentivo a livello aziendale a fare qualcosa di diverso dal cercare di dare al massimo numero di persone un'esperienza il più possibile positiva su Facebook".
Il fornitore di servizi Internet sudcoreano SK Broadband ha citato in giudizio Netflix (-0,1%) per pagare i costi dell'aumento del traffico di rete e dei lavori di manutenzione a causa di un'impennata di spettatori del contenuto dell'azienda statunitense.
La mossa arriva dopo che un tribunale di Seoul ha detto che Netflix dovrebbe "ragionevolmente" dare qualcosa in cambio al fornitore di servizi internet per l'utilizzo della rete.
Netflix ha detto che rivedrà il reclamo di SK Broadband, e cercherà il dialogo ed esplorerà modi nel frattempo per lavorare con SK Broadband per garantire che i clienti non siano colpiti.
Lo show sudcoreano di successo "Squid Game" è diventato ufficialmente il più grande lancio di serie originali di Netflix dopo meno di un mese. "Squid Game" ha attirato 111 milioni di spettatori a livello globale dal suo rilascio del 17 settembre.
Baird ha alzato il target price su Netflix da 650 a 680 dollari.
Netflix lancerà Netflix Book Club, un club del libro dove i lettori sentiranno parlare di nuovi libri, film e adattamenti di serie, oltre ad avere accesso esclusivo al processo di adattamento di ogni libro. Netflix collaborerà con Starbucks per dare vita al club del libro attraverso una serie sociale chiamata "But Have You Read the Book?". L'attrice Uzo Aduba ospiterà il club del libro ufficiale dell'azienda.
Twitter (+0,8%) implementerà una funzione che permetterà agli utenti di rimuovere i follower senza doverli sbloccare e di gestire più facilmente l'elenco degli stessi.