TIM ha presentato i risultati dei primi nove mesi del 2021, sottolineando come nel terzo trimestre "è proseguita, con il lancio dell'offerta calcio e l'arricchimento del palinsesto di TimVision, l'azione di stabilizzazione e rilancio del business domestico ed è stata impressa un'accelerazione alla costruzione della nuova fase di crescita legata ai mercati adiacenti, in particolare quelli dei contenuti e dei servizi innovativi per la clientela business".
Nel dettaglio dei primi nove mesi, i ricavi totali sono diminuiti a 11,4 miliardi (-2,2%; -0,4% variazione organica), di cui ricavi Domestic per 9,3 miliardi (-1,4%; -1,6% variazione organica) e ricavi Brasile per 2,1 miliardi (-5,8%; +5,3% variazione organica).
L'Ebitda, pari a 4,4 miliardi, segna un calo del 14,1% su base annua (-4,4% variazione organica), pesa la contrazione dell'Ebitda Domestic a 3,4 miliardi (-16,1%; -6,5% variazione organica). L'Ebitda organico al netto della componente non ricorrente ammonta a 4,9 miliardi, con una marginalità al 42,8% (5,1 miliardi 9M20; Ebitda organico margin 9M20 al 44,7%).
L'utile netto dei primi nove mesi del 2021 attribuibile ai soci della controllante si attesta a 22 milioni (1,2 miliardi 9M20). Escludendo l'impatto delle partite non ricorrenti, l'utile netto dei primi nove mesi del 2021 è pari a 342 milioni (870 milioni nei 9M20).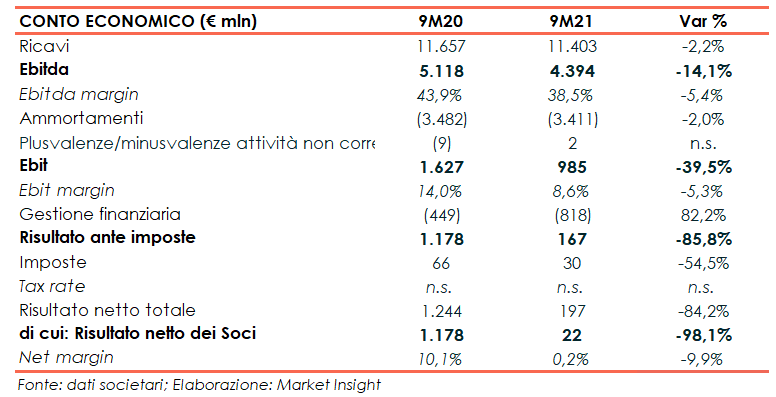 Dal lato patrimoniale, l'indebitamento finanziario netto è pari a 22,5 miliardi, in calo di 1,2 miliardi rispetto al 31 dicembre 2020. L'indebitamento finanziario netto rettificato si riduce a 22,2 miliardi dai 23,3 miliardi di fine 2020.

Le indicazioni riguardanti la guidance per l'intero 2021 hanno subito un peggioramento, riflettendo i costi di startup delle nuove iniziative strategiche e le condizioni di mercato. Il gruppo si attende infatti una "low single digit decrease" dei ricavi da servizi (precedentemente attesa una "stable to low single digit growth") e una "mid single digit decrease" dell'Ebitda After Lease (precedentemente attesa una "low to mid single digit decrease". L'Equity free cash flow After Lease è stimato a circa 3,5 miliardi cumulati, contro i circa 4 miliardi indicati precedentemente.