Si riporta l'andamento odierno dei principali titoli internazionali del settore beni di consumo: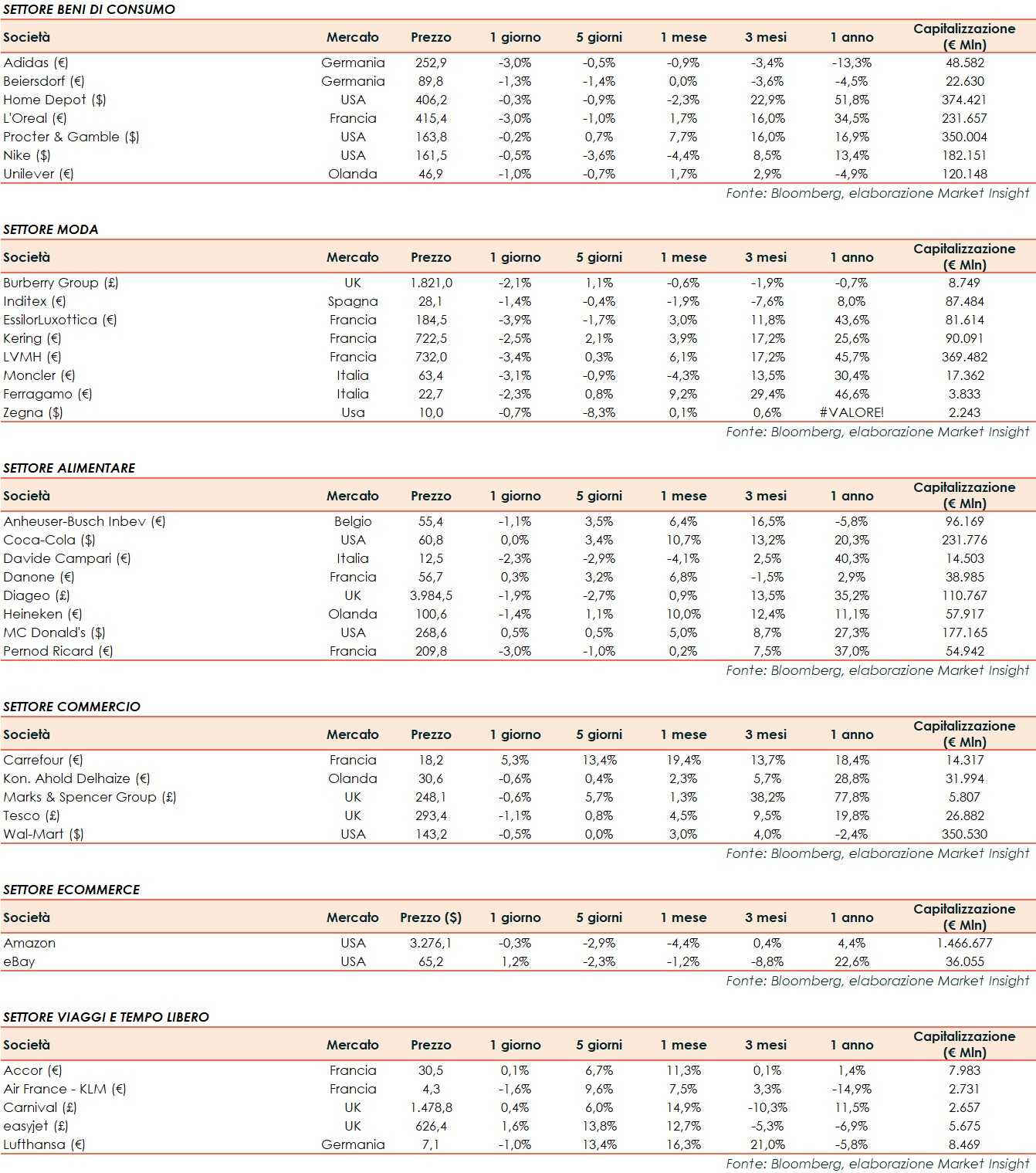 Giornata negativa per i mercati europei, con il Ftse Mib a -1,6%, il Dax a -1,5% e il Ftse 100 a -1%. Avvio volatile per i listini americani, con il Dow Jones a -0,3%, lo S&P500 a -0,3% e il Nasdaq a -0,5%.
Danone (+0,3%) ha nominato Vikram Agarwal quale Chief Operations Officer. Inoltre ha nominato Isabelle Esser quale Responsabile Ricerca, Innovazione, Qualità e Sicurezza alimentare ed Henri Bruxelles quale Responsabile Sostenibilità e Sviluppo strategico.
Goldman Sachs ha aumentato il prezzo obiettivo sul titolo Tesco (-1,1%) a 3,4 sterline (4,60 dollari) da 3,35 sterline e ribadito il rating Buy.
Il Regno Unito non richiederà più ai viaggiatori vaccinati di sottoporsi a un test Covid-19 prima di salire a bordo di un volo per il paese, dopo che le compagnie aeree duramente colpite dalla variante omicron hanno fatto pressioni per allentare le regole. Le persone non dovranno più autoisolarsi all'arrivo a meno che non risultino positive. Le modifiche entreranno in vigore venerdì. L'allentamento delle regole alle frontiere introdotte per rallentare la diffusione dell'omicron porterà un po' di sollievo ai vettori.
"Ciò renderà il viaggio molto più semplice e facile e consentirà ai nostri clienti di prenotare e viaggiare con fiducia", ha dichiarato l'Ad di EasyJet (+1,6%) Johan Lundgren, che ha esortato il governo ad andare oltre ed eliminare anche il test antigenico dopo l'arrivo nel paese.
Carnival guadagna lo 0,4%. Reuters ha riferito che i competitor statunitensi Royal Caribbean e Norwegian hanno annullato alcune partenze. In particolrae l'agenzia ha affermato che Royal Caribbean ha cancellato la crociera Spectrum of the Seas per oggi e Norwegian Cruise Line alcune partenze fino ad aprile.