Si riporta l'andamento odierno dei principali titoli internazionali del settore media: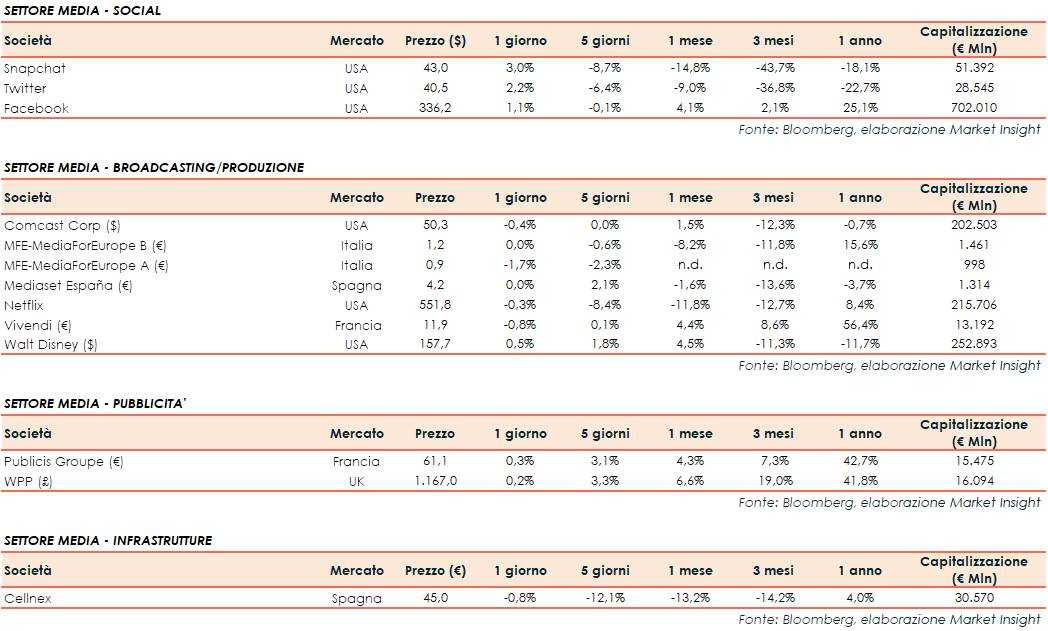 Seduta prevalentemente negativa per i principali mercati, con il Ftse Mib -0,2%, il Dax a -0,8% e il Cac 40 a -0,5%. Oltreoceano, a Wall Street viaggiano sotto la parità Dow Jones (-0,1%), S&P 500 (-0,2%) e Nasdaq (-0,3%).
Snap (+3%) ha citato in giudizio l'U.S. Patent and Trademark Office per la sua decisione di negare la protezione del marchio federale per gli occhiali intelligenti Spectacles della società, secondo quanto riporta Reuters.
Snap, meglio conosciuto come il creatore della popolare app video Snapchat, ha detto in un reclamo mercoledì nella corte federale di Los Angeles che il Trademark Trial and Appeal Board del PTO ha sbagliato a trovare che "Spectacles" è un termine generico per gli occhiali intelligenti.
Snap ha introdotto i suoi Spectacles nel 2016 come modo per gli utenti di catturare foto e video e caricarli automaticamente su Snapchat. La PTO ha formalmente rifiutato la domanda di marchio federale di Snap per il nome nel 2020, trovandolo inammissibile per la protezione del marchio perché era generico o semplicemente descrittivo.
Publicis (+0,3%) ha annunciato l'acquisizione di Tremend, una delle più grandi e in più rapida crescita società indipendenti di software indipendente in Europa centrale e orientale. Tremend raggiunge attualmente 60 milioni di utenti finali dei suoi clienti con la sua tecnologia collaudata e servirà come il più recente centro di consegna globale per
Publicis Sapient.
Con sede a Bucarest, Romania, Tremend è stata fondata nel 2005 da Ioan Cocan e Marius Hanganu, e serve una base clienti ampia e diversificata che include aziende come Carrefour, ING e Orange.
"In un contesto di crescente domanda di trasformazione digitale del business, Publicis Groupe sta scalando la sua competenze in Europa per servire meglio i suoi clienti e aiutarli a vincere nel commercio. L'aggiunta di Tremend espanderà le capacità di ingegneria agile di Publicis Sapient e diversificherà la sua impronta geografica. geografica", ha dichiarato Arthur Sadoun, presidente e Ceo di Publicis Groupe.
La transazione rimane soggetta alle approvazioni abituali dell'autorità competente in materia di concorrenza.
Twitter (+2,2%) sta testando una funzione che consente agli utenti di commentare un post tramite una foto o un video inserendo al suo interno una copia del tweet a cui si sta rispondendo. Per ora il testing sta avvenendo solo su Twitter e, in caso di successo, l'utilizzo potrà essere esteso anche su Android. Lo si apprende da fonti di stampa.