Si riporta l'andamento odierno dei principali titoli internazionali del settore Industriale.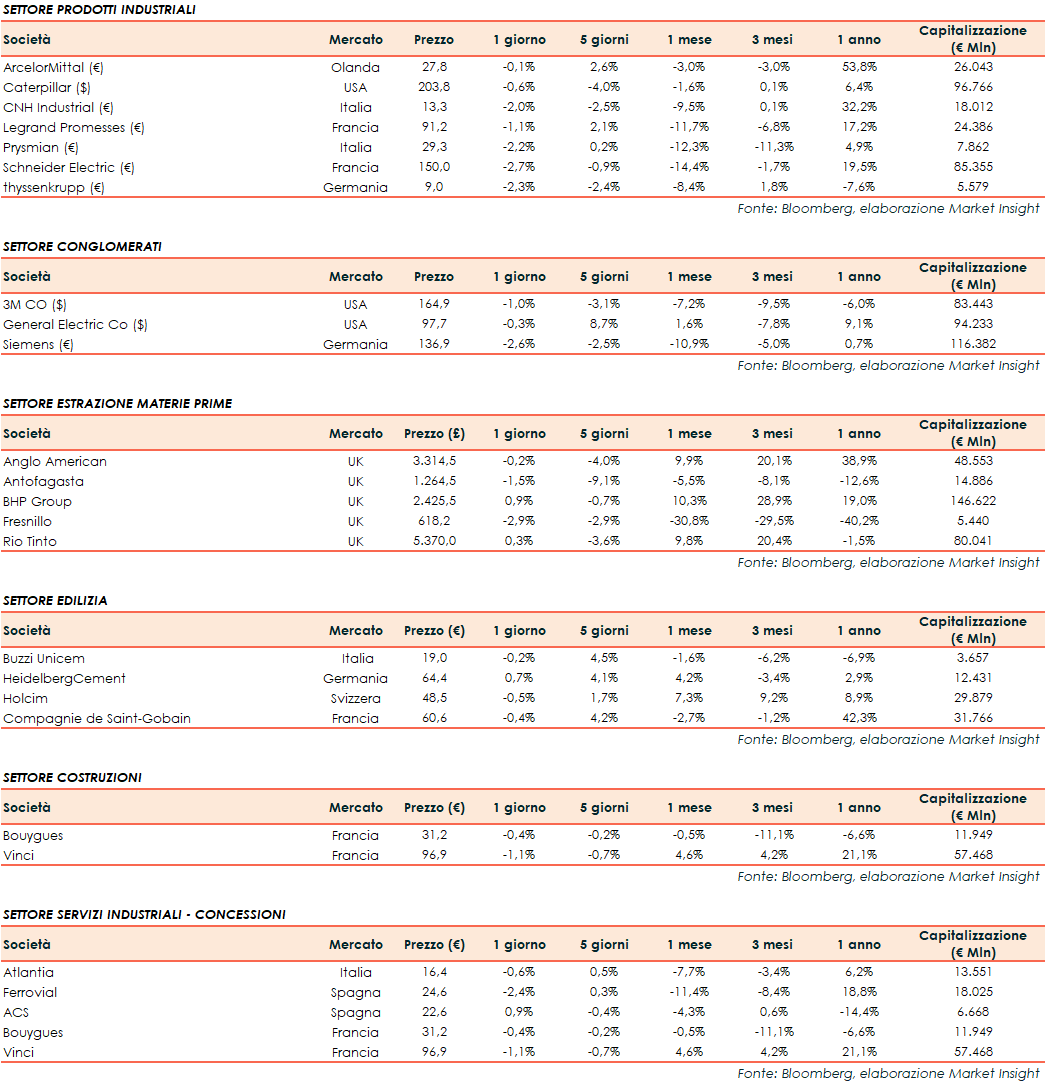 Borse europee in discesa dopo i meeting della Bce e della Bank of England, con il Ftse Mib in calo dell'1% in area 27.120 punti. Sottotono anche il Dax di Francoforte (-1,4%), il Cac 40 di Parigi (-1,5%) e il Ftse 100 di Londra (-0,6%), mentre l'Ibex 35 di Madrid resiste poco sotto la parità (-0,2%).
A Wall Street, aspettando i risultati di Amazon in uscita stasera, il Nasdaq cede il 2,2% in scia ai conti deludenti di Meta Platforms (-25%) mentre Dow Jones e S&P 500 segnano rispettivamente il -1,5% e -0,9%.
La Banca Europea per gli Investimenti (BEI) e Prysmian Group hanno annunciato di aver sottoscritto finanziamento da €135 milioni destinato a sostenere i piani di Ricerca & Sviluppo (R&S) in Europa, nel periodo 2021-2024, di Prysmian.
Il finanziamento BEI sarà in particolare destinato a:
Ricerca Industriale: ricerca di materiali innovativi anche attraverso l'impiego delle nanotecnologie, sistemi per il monitoraggio e la gestione delle reti elettriche interrate e sottomarine e degli impianti elettrici di bassa tensione, nuovi cavi e materiali per soluzioni più sostenibili e cavi ibridi per energia e telecomunicazioni.

Innovazione e Sperimentazione: impiego di materiali alternativi per il disegno dei cavi e ottimizzazione dei progetti di prodotto, utilizzo di tecnologie avanzate per l'esecuzione delle operazioni di giunzione dei cavi.

Sviluppo di nuovi prodotti: sistemi in cavo sottomarino per la trasmissione di energia per installazione ad elevate profondità; sistemi in cavo interrato e sottomarino P-Laser per la trasmissione di energia ad altissime tensioni; cavi dinamici per il settore delle energie rinnovabili offshore; soluzioni in cavo per l'e-mobility; fibre ottiche con elevate performance, cavi per applicazioni Fibre to the Home e Fibre to the Antenna e connettività; sviluppo di sistemi in cavo intelligenti e sensoristica per localizzazione dei guasti, monitoraggio e gestione delle reti elettriche.

Trasformazione digitale e sostenibilità: sviluppo di soluzioni digitali di machine learning e intelligenza artificiale per il potenziamento della qualità del sistema produttivo, per la gestione delle operazioni da remoto anche attraverso l'utilizzo delle tecnologie IoT Industry 4.0 e per la gestione del portafoglio prodotti innovativi in corso di sviluppo; sviluppo di modelli per la valutazione continua degli impatti di sostenibilità di una Green IT strategy e per la definizione di sostenibilità del portafoglio prodotti.
Il finanziamento BEI è finalizzato in particolare al supporto di progetti da sviluppare nei centri di Ricerca & Sviluppo in cinque Paesi europei: Francia, Olanda, Spagna, Germania e Italia. In Italia, alla quale è destinata una parte significativa delle risorse, sono situati l'headquarter del Gruppo Prysmian, gli uffici della Ricerca & Sviluppo nonché alcuni stabilimenti di eccellenza per la produzione di fibre ottiche e di cavi e sistemi sottomarini per la trasmissione di energia.