Si riporta l'andamento odierno dei principali titoli internazionali del settore tecnologico e del settore delle telecomunicazioni.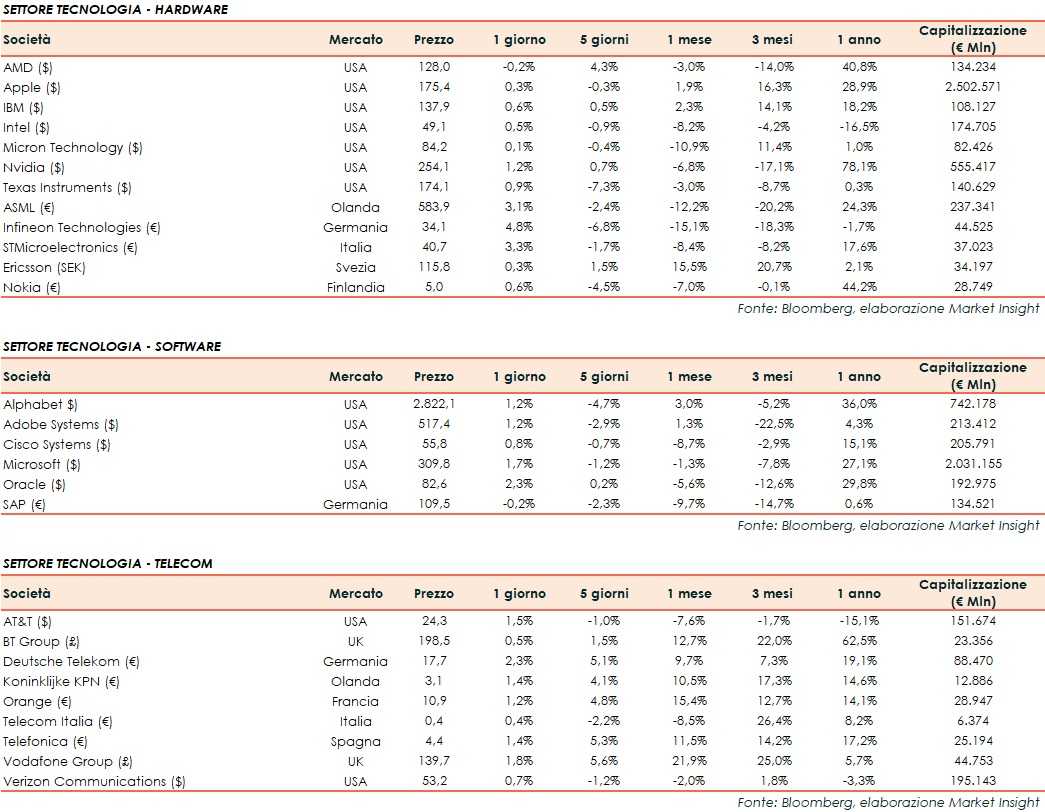 Le borse europee accelerano ulteriormente dopo l'avvio positivo di Wall Street. Il Ftse Mib di Milano guadagna il 2,4% e torna sopra quota 27.000 punti, seguito dal Dax di Francoforte (+1,7%), il Cac 40 di Parigi (+1,6%), l'Ibex 35 di Madrid (+1,1%) e il Ftse 100 di Londra (+1%). Oltreoceano, avanzano Dow Jones (+0,75%), S&P500 (+1,1%) e Nasdaq (+1,1%).ò
Per quanto il settore tecnologico e tlc, il 2021 è stato un anno record per ASML (+3,1%), grazie alla trasformazione digitale in corso e alla carenza di chip. L'azienda olandese di semiconduttori ha registrato ricavi netti in aumento del 33% a 18,61 miliardi e un utile netto di 5,88 miliardi nel 2021 (+66% a/a). La società ha avvertito che una società collegata alla cinese XTAL, precedentemente condannata per appropriazione indebita di segreti commerciali di ASML, ha iniziato a commercializzare prodotti che potrebbero violare i suoi diritti di proprietà intellettuale.
Apple ha annunciato sull'iPhone la funzione Tap to Pay che permette di effettuare pagamenti contactless avvicinando soltanto due smartphone, senza necessità di Pos. L'azienda di Cupertino ha inoltre acquisito Ai Music, una startup britannica che utilizza l'intelligenza artificiale per generare playlist personalizzate e musica adattiva.
Secondo Bank of America, il frazionamento di Alphabet potrebbe portare un'ondata di acquisti sul titolo, come avvenuto in precedenza con altre società.
Il Collegio dei commissari dell'UE ha approvato l'European Chips Act per raddoppiare la produzione di semiconduttori in Europa entro il 2030.
Iliad ha confermato di avere presentato un'offerta per il 100% di Vodafone Italia.
Nel 2021, in Cina, primo produttore di smartphone è risultato Vivo con una quota di mercato pari al 22%, in aumento di 5 punti rispetto al 2020. Crolla dal primo al sesto posto Huawei in scia alle restrizioni imposte dagli Usa.