Si riporta l'andamento odierno dei principali titoli internazionali del settore Industrial: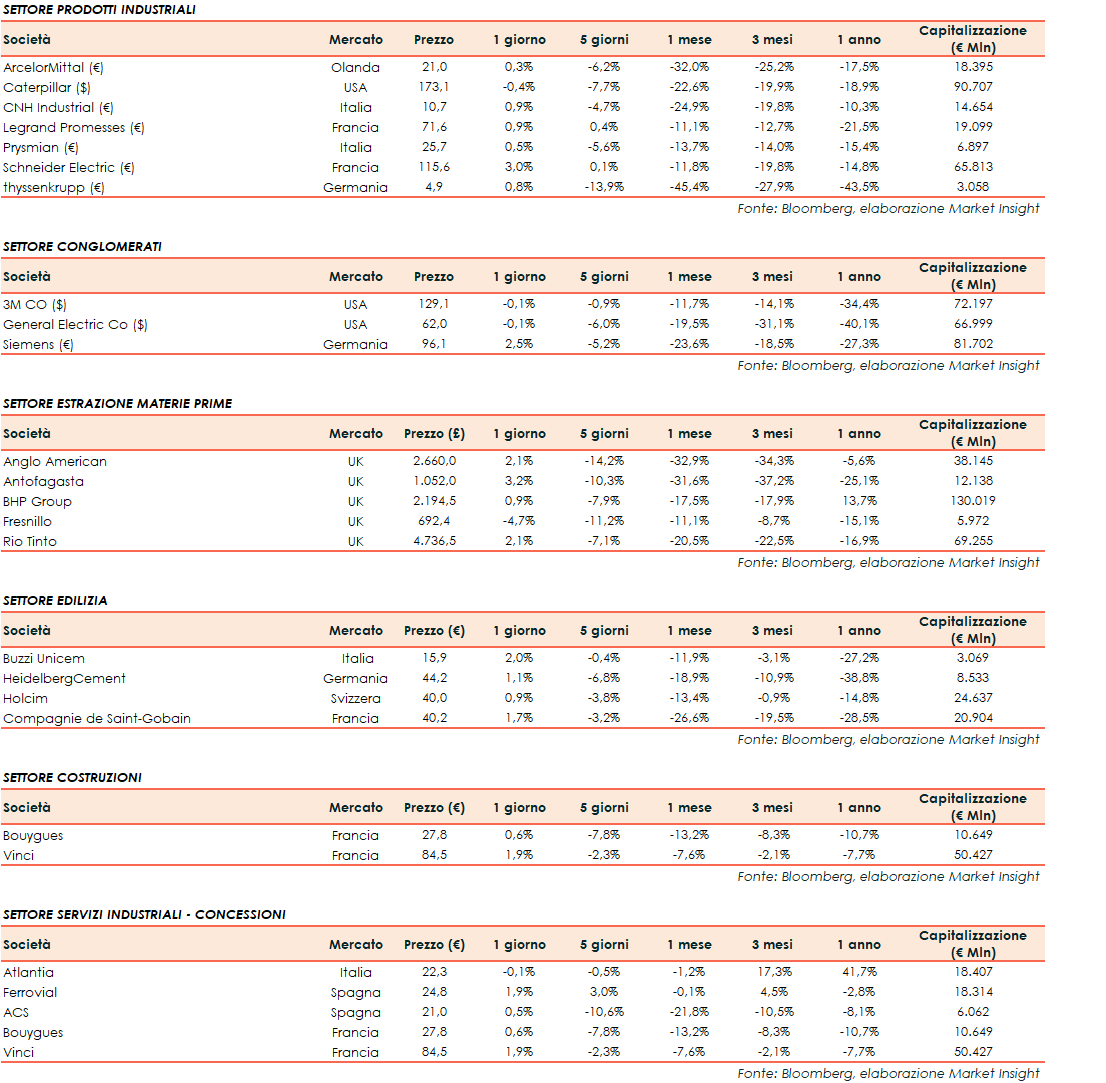 Giornata in rimonta per i mercati azionari: in Europa, il Ftse Mib guadagna l'1,6%, il Dax il 2,1% e il Ftse 100 l'1,8%. A Wall Street, il Nasdaq sale dello 0,4% e Dow Jones e S&P 500 dello 0,3%.
Holcim (+0,9%) ha rilevato Cantillana, impresa belga a conduzione familiare attiva nei sistemi di costruzione di facciate e d'isolamento con un organico di circa 200 dipendenti e con un giro d'affari stimato intorno agli 80 milioni di euro. L'acquisizione permetterà a Holcim di accelerare il processo di crescita in Europa del ramo Solutions & Products.
3M CO (-0,1%) ha raggiunto un accordo con il governo belga per risolvere i continui disaccordi sulla bonifica di uno stabilimento a Zwijndrecht dalla contaminazione da sostanze tossiche. L'azienda investirà 571 milioni di euro per affrontare lo smaltimento di sostanze perfluoroalchiliche e polifluoroalchiliche.
Siemens Gamesa, azienda controllata da Siemens (+2,5%), si è accordata con Western Power Distribution, società tedesca per la realizzazione del parco eolico offshore Gennakercon. L'accordo prevede un servizio 20 anni e che genererà una capacità complessiva di 927 MW.
Schneider Electric (+3%) ha ricevuto il premio "2022 Microsoft Energy & Sustainability Partner of the Year" battendo la concorrenza dei i top partner mondiali di Microsft per soluzioni software innovative EcoStruxure™ offerte ai clienti e supportate da tecnologie Microsoft quali Azure Cloud e Dynamics 365.
Ingka ha pagato 62 milioni di euro per aumentare al 33% la propria partecipazione in un parco eolico offshore tedesco.