Si riporta l'andamento odierno dei principali titoli internazionali del settore tecnologico e del settore delle telecomunicazioni.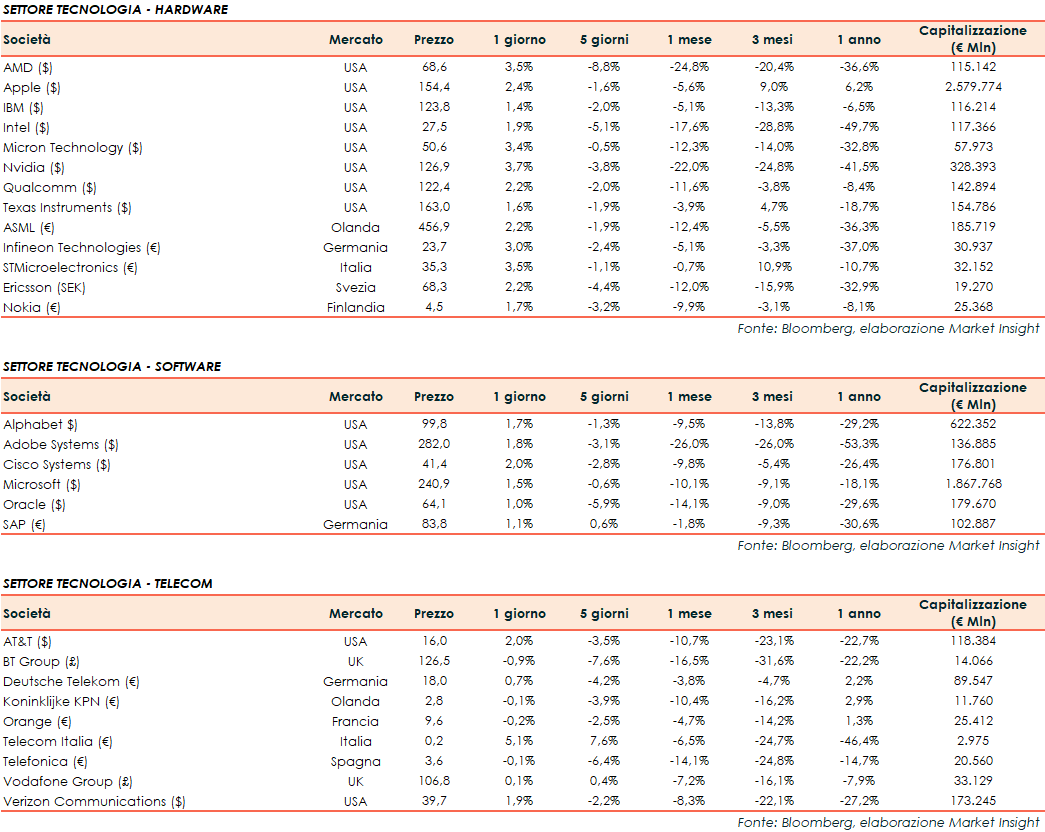 Giornata debole per i mercati azionari europei: il Ftse Mib cede lo 0,4%, il Dax lo 0,3% e il Ftse 100 lo 0,1%. A Wall Street, invece, il Nasdaq guadagna l'1,2%, lo S&P 500 lo 0,8% e il Dow Jones lo 0,7%. A trainare gli indici americani è proprio il settore tecnologico.
Per quanto riguardale principali notizie, Oracle pagherà 23 milioni di dollari per risolvere le accuse sull'utilizzo di fondi neri per corrompere funzionari stranieri in cambio di affari. Lo ha affermato la US Securities and Exchange Commission, secondo cui le filiali Oracle in Turchia, Emirati Arabi Uniti e India hanno creato i fondi neri tra il 2016 e il 2019. Per il gigante americano si tratta del secondo caso di corruzione rilevato dalla SEC.
I maggiori colossi tecnologici, tra cui Google (Alphabet), Apple e Microsoft hanno raggiunto un accordo per porre fine alle affermazioni secondo cui i loro telefoni e laptop violano un brevetto per semiconduttori di proprietà di una società irlandese (Arigna Technology), nell'ambito di una più ampia controversia sulla violazione che coinvolge anche i produttori di veicoli elettrici.
UBS ha ridotto il target price di Micron Technology da 80 a 75 dollari per azione, mantenendo la raccomandazione Buy, sostanzialmente in linea con quanto fatto in precedenza da altre banche d'affari.
Prosegue il recupero di Telecom Italia (+5,1%) innescato dall'esito del voto in Italia. Secondo gli analisti di Intesa Sanpaolo, l'offerta di Cdp su Tim NetCo potrebbe arrivare entro metà ottobre e quindi prima della formazione del nuovo Governo. Fratelli d'Italia ha spesso dichiarato di puntare a promuovere la creazione di un operatore indipendente solo 'wholesale', ma non è chiaro se intenda supportare il percorso previsto dal Memorandum of Understanding già siglato o se chiederà una revisione dello stesso.