Si riporta l'andamento odierno dei principali titoli internazionali del settore tecnologico e delle telecomunicazioni: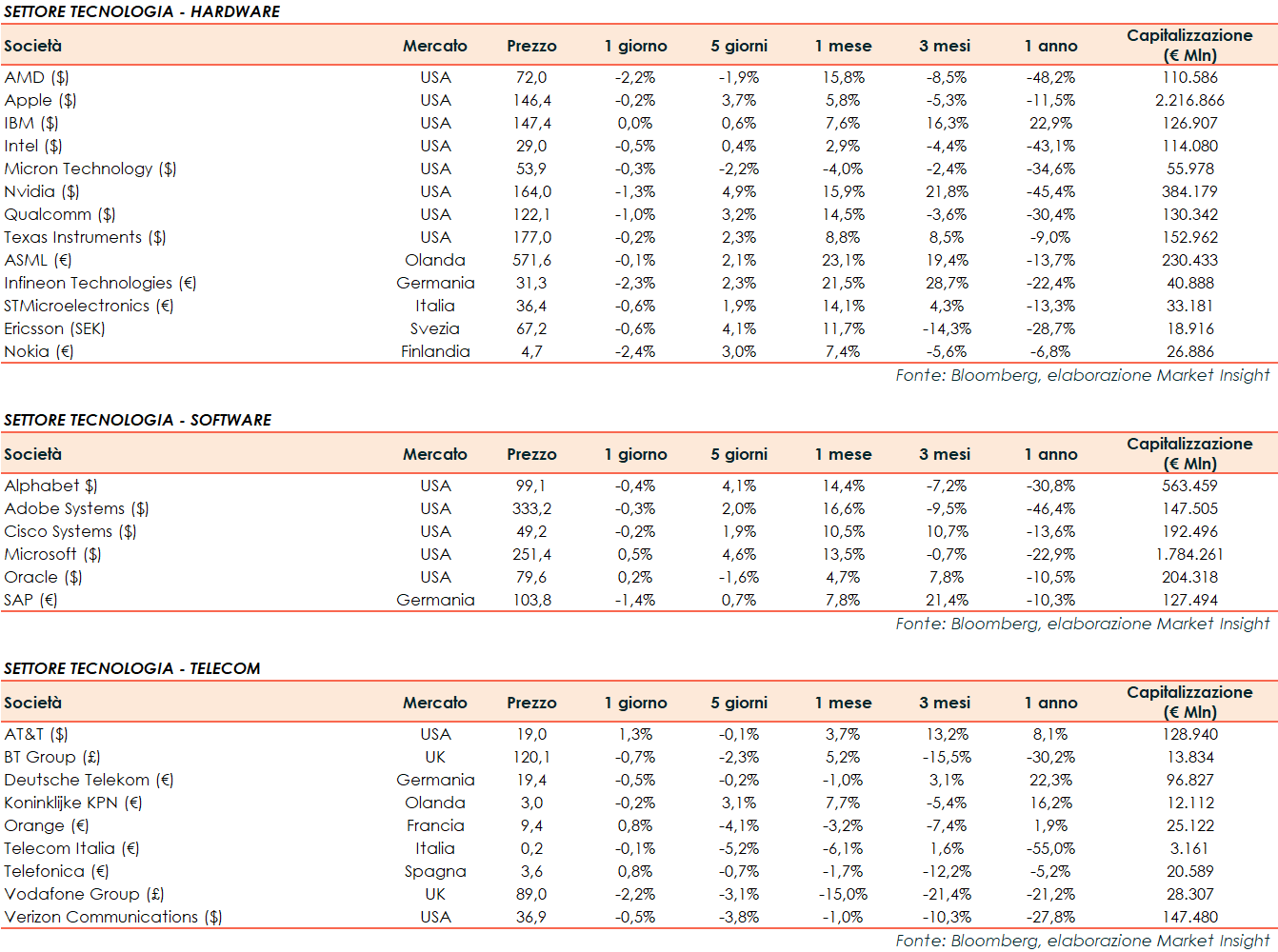 Giornata debole per i mercati azionari: in Europa, il Ftse Mib cede lo 0,6%, il Dax lo 0,5% e il Ftse 100 lo 0,2%. A Wall Street, il Nasdaq perde lo 0,9%, lo S&P 500 lo 0,5% e il Dow Jones lo 0,2%.
Microsoft (+0,5%) ha offerto a Sony un contratto decennale per rendere disponibili su PlayStation i titoli Call of Duty, di proprietà di Activision. Tale accordo è subordinato all'acquisizione di Activision da parte di Microsoft, ancora al vaglio della Federal Trade Commission per la norma Antitrust. L'intesa stessa raggiunta con Sony sarebbe anche utile al venir meno dell'accusa di abuso di posizione dominante, in quanto Microsoft e Sony sono i due player di mercato del gaming su console.
Secondo le dichiarazioni del vicepresidente di Taiwan Shen Jong-chin, ASML (-0,1%) starebbe pianificando di delocalizzare la propria supply chain europea a Taiwan; ciò oltre all'attuale investimento della società nella realizzazione di un impianto produttivo a Taipei, la cui costruzione inizierà a luglio 2023 e sarà il più importante investimento di ASML nel paese.
Apple (-0,2%), secondo indiscrezioni di stampa, starebbe pianificando di spostare la sua produzione di iPhone dalla Cina all'India. Ciò risulta in linea con la sua strategia di diversificazione dalle forniture cinesi a seguito delle instabilità che si stanno susseguendo in Cina. Inoltre, secondo gli analisti di JP Morgan, Apple sposterà dalla Cina il 25% della sua produzione di iPhone in India e il 20% di apple watch e iPad in Vietnam. La società starebbe inoltre valutando la Malesia come possibile futuro sito produttivo, oltre che un parziale reshoring negli USA con il progetto dello stabilimento in Arizona.
Foxconn riduce i suoi ricavi mensili di novembre dell'11% rispetto all'anno precedente, soprattutto a causa dei disordini nella sua fabbrica di Zhengzhou e delle restrizioni anti Covid in Cina. Foxconn è il principale fornitore di Apple nella produzione a contratto di hardware.
Secondo indiscrezioni di stampa, sul dossier Telecom Italia (-0,1%) il governo intende dialogare con i maggiori azionisti della società, ovvero Vivendi, Macquarie e Kkr; tuttavia, al momento non si conoscono le intenzioni del governo in merito alla modalità con cui intende realizzare il progetto "rete unica", essendo venuto meno il progetto del Memorandum of Understanding.