Si riporta l'andamento odierno dei principali titoli internazionali del settore media: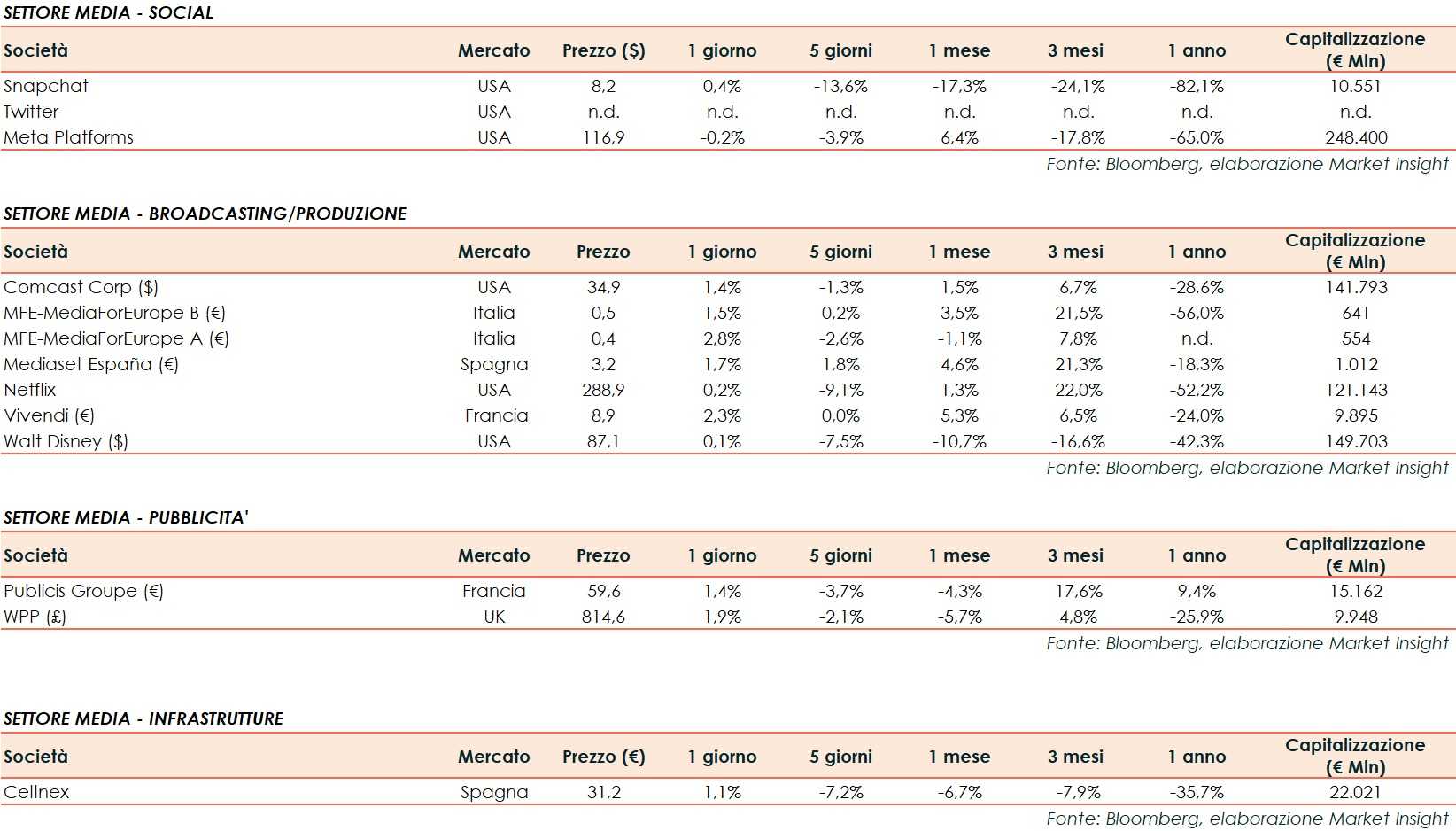 Seduta positiva in Europa con il Ftse Mib di Milano +1,3%, Cac40 di Parigi +1,5%, Ftse 100 di Londra +1,3%, Ibex 35 di Madrid +1,3% e Dax di Francoforte +1,2%. A Wall Street il Nasdaq guadagna l'1,2%, seguito da Dow Jones e S&P500, entrambi a +1,1%.
Meta Platforms (-0,2%) manterrà la rotta sul metaverso nel 2023, nonostante il recente abbandono di John Carmack, genio del gaming, che ha definito inconcludente e frustrante la strategia di Mark Zuckerberg. L'azienda nel corso del prossimo anno dovrebbe investire  nella divisione metaverse Reality Labs 19,2 miliardi di dollari, pari al 20% delle sue spese complessive. Questa scelta si innesta nel crescente scetticismo sulla decisione del Ceo Mark Zuckerberg di concentrarsi in modo così dispendioso su un settore, il metaverso, poco redditizio e con importanti investimenti. Il CTO (Chief Technology Officer) di Reality Labs, Andrew Bosworth, ha notato in un post sul blog che la società ha pianificato di spendere per la divisione metaverse nel 2023 quanto già investito nel 2022, nonostante una perdita di 9,4 miliardi di dollari nei primi nove mesi del 2022.
Netflix (+0,2%) ha deciso di non procedere con la lavorazione di Ember, il film in animazione tradizionale diretto da Sergio Pablos, regista di Klaus – I segreti del Natale. Si tratta dell'ennesimo progetto animato a esser sospeso, dopo Wings of Fire prodotto da Ava DuVernay, Antiracist Baby e With Kind Regards From Kindergarten. Nel caso di Ember e degli altri progetti, fonti dichiarano che Netflix avrebbe deciso di sospenderne lo sviluppo per motivi creativi piuttosto che economici.
WPP (+1,9%) sta costruendo un nuovo campus nel quartiere Old Fourth Ward di Atlanta per fornire uno spazio di lavoro di livello mondiale per i propri dipendenti. Il Campus riunirà oltre 400 dipendenti WPP e ospiterà dieci agenzie, tra cui AKQA, BCW, EssenceMediacom, GCI Health, GroupM, GTB, Mindshare, Verticurl, VMLY&R e Wunderman Thompson. Il Campus sarà caratterizzato da un mix di spazi pubblici e privati ​​e sarà situato vicino alla sede centrale di The Coca-Cola Company e ad altri clienti WPP. Fungerà anche da hub per l'industria tecnologica di Atlanta e fornirà spazi dedicati ai clienti per la collaborazione e la crescita di OpenX, un'agenzia su misura creata da WPP nel 2021 dopo la sua nomina a Global Marketing Network Partner di The Coca-Cola Company.