Oggi si è conclusa la 44-esima edizione del Salone Internazionale di Gelateria, Pasticceria, Panificazione Artigianali e Caffè (SIGEP), organizzato da Italian Exhibition Group (IEG), con il contestuale evento triennale AB Tech.
La manifestazione ha registrato il sold out con oltre 1.000 imprese su 28 padiglioni, per 130.000 mq di expo.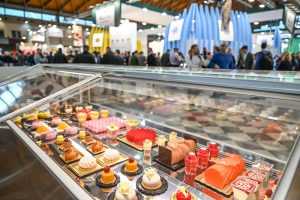 I visitatori esteri sono arrivati a Rimini da 155 Paesi.
Per quanto riguarda le provenienze: 77% Europa con Germania, Spagna, Grecia, Francia e Gran Bretagna ai primi posti; 12% Asia e Medio Oriente con prevalenza da Israele, Libano, India, Corea e i Paesi dell'Area del Golfo; 7% Americhe con Stati Uniti, Canada, Messico, Brasile e Argentina ai primi posti e il 4% dall'Africa, in primis da Marocco, Algeria Egitto, Libia e Nigeria.
Inaugurato dal presidente nazionale di Confcommercio, Carlo Sangalli, insieme alle autorità locali e con l'intervento da remoto, nella seconda giornata, del ministro Francesco Lollobrigida (Agricoltura, sovranità alimentare e foreste), IEG ha accolto 450 top buyers provenienti da 78 paesi del mondo grazie alla partnership strategica con ICE Agenzia e il ministero degli Affari Esteri e della Cooperazione Internazionale, con il supporto della rete internazionale di regional advisor IEG, presente in 60 paesi.
Sold out anche il calendario di appuntamenti quotidiani alla Vision Plaza, vero e proprio cuore dei contenuti dedicati alle tendenze e alle informazioni economiche per il mondo del food service dolce, protagonista del comparto 'out of home' che in Italia vale circa 60 miliardi.
The NPD Group ha comunicato il sostanziale recupero dopo lo stop e le restrizioni del periodo pandemico: +3% del giro d'affari.
La crescente famigliarità con gli spostamenti aiuterà un'ulteriore crescita. Da Deloitte un Foodservice Market Monitor mondiale con valori su 2.525 miliardi (+14% sul 2021). L'Italia è il primo paese europeo per valore di mercato dei ristoranti Full Service, con una quota
complessiva di 36 miliardi di euro nel 2022.
In fiera erano rappresentati i settori Gelato, Pastry, Choco, Coffee e Bakery, quest'ultima filiera potenziata grazie alla contemporaneità con AB Tech Expo.
Show, contenuti e competizioni nelle sei Arene: Dolce, Gelato, Pastry, Choco, Bakery e Coffee, con la la Start-Up Area e la Digital Talks. Un palinsesto arricchito da oltre 100 talk e 200 relatori, di cui 50 internazionali, più di 20 competizioni con 30 Paesi partecipanti. Oltre 1.000 gli eventi organizzati dagli espositori. In fiera tutti i grandi Maestri del dolciario made in Italy.
Fari puntati su quattro concorsi internazionali: Gelato Europe Cup che ha selezionato le nazioni europee per la Coppa del Mondo a Sigep 2024, Bread in the City–Bakery World Cup, The Pastry Queen il mondiale di pasticceria femminile e il Campionato Mondiale Juniores di pasticceria.
Sigep e AB Tech hanno attirato l'attenzione dei media italiani ed internazionali che hanno prodotto un'audience pari a 439 milioni di contatti lordi. 655 gli accrediti in sala stampa, dei quali 70 esteri.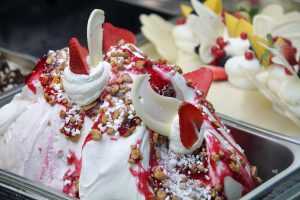 I profili social hanno raggiunto i 137mila followers e nelle giornate di fiera sono state 280mila le visualizzazioni degli operatori professionali dei profili espositori sulla piattaforma B2B TEO The Eating Out Hub.
La 45a edizione di Sigep è in programma dal 20 al 24 gennaio 2024 alla Fiera di Rimini.
Ma prima, Sigep, la piattaforma della community del foodservice dolce e del modo italiano di viverlo, si appresta a un nuovo, ambizioso appuntamento: Sigep China. Si terrà dal 10 al 12 maggio 2023 e sarà organizzato da EAGLE, società interamente controllata da IEG, in partnership con Fiera di Colonia, allo Shenzhen World Exhibition e Convention Center in contemporanea con Anufood China.
Il prossimo appuntamento di IEG con il comparto food&beverage è alla fiera di Rimini con Beer&Food Attraction, dal 19 al 22 febbraio 2023.