Si riporta l'andamento odierno dei principali titoli internazionali del settore media.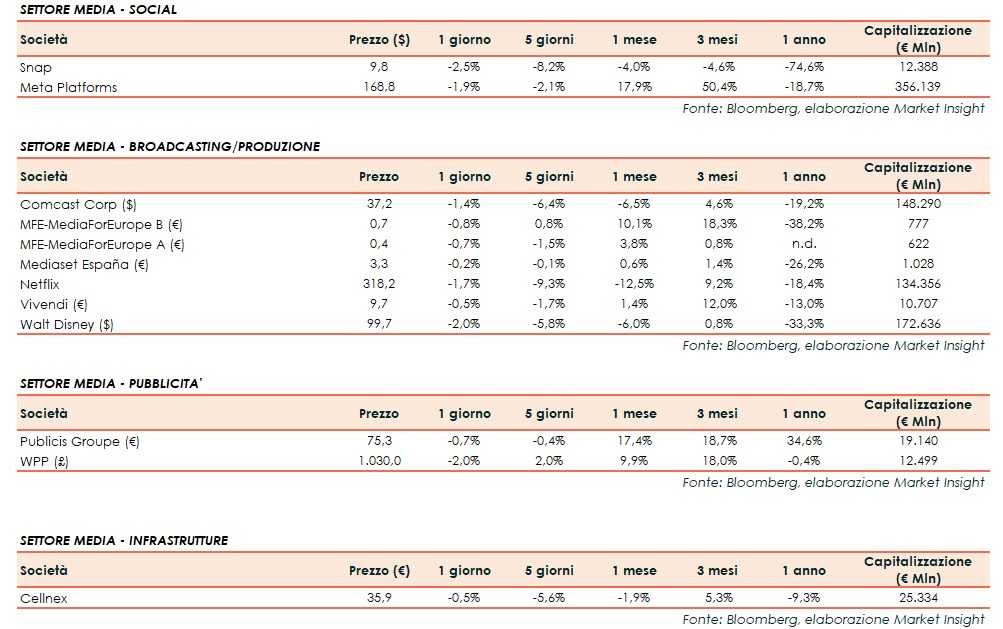 Seduta negativa per le Borse europee con il Ftse Mib che cede lo 0,7%. Giù anche il Dax (-1,3%), il Cac 40 (-1,2%), più cauti invece il Ftse 100 e l'Ibex 35 (-0,2%). Oltreoceano, il Nasdaq lascia sul terreno l'1,8%, lo S&P 500 l'1,4% e il Dow Jones l'1,1%.
Comcast (-1,4%) ha ricevuto un Technology & Engineering Emmy Award per la creazione e la fornitura di esperienze di visione sportiva innovative per milioni di clienti su Xfinity, Sky e Peacock. La National Academy of Television Arts and Sciences ha riconosciuto Comcast un premio per l'utilizzo dell'intelligenza artificiale e dell'apprendimento automatico per fornire agli spettatori un modo semplice per recuperare i momenti chiave degli eventi sportivi dal vivo.
Netflix (-1,7%) ha iniziato a ridurre i prezzi degli abbonamenti fino al 50% in oltre 30 paesi. Lo si apprende da fonti di stampa che spiegano che l'obiettivo di questa mossa è attirare più abbonati in un panorama sempre più affollato e competitivo sul fronte delle offerte streaming. I paesi coinvolti sono in Medio Oriente, parte in Asia, in Europa e  in America Latina, tutti caratterizzati da un reddito medio piuttosto basso e da una scarsa penetrazione di Netflix nel mercato.
La strategia è opposta a quella attuata dagli altri streamer negli ultimi mesi: Disney+, HBO Max, Paramount+ e altri, che hanno invece iniziato ad alzare i prezzi. S ricorda che, nel frattempo, Netflix ha anche lanciato una versione con pubblicità del suo abbonamento base negli Usa e in Europa, con un prezzo più vantaggioso, e sta iniziando l'annunciata restrizione della condivisione della password.