Si riporta l'andamento odierno dei principali titoli internazionali del settore della sanità e della chimica;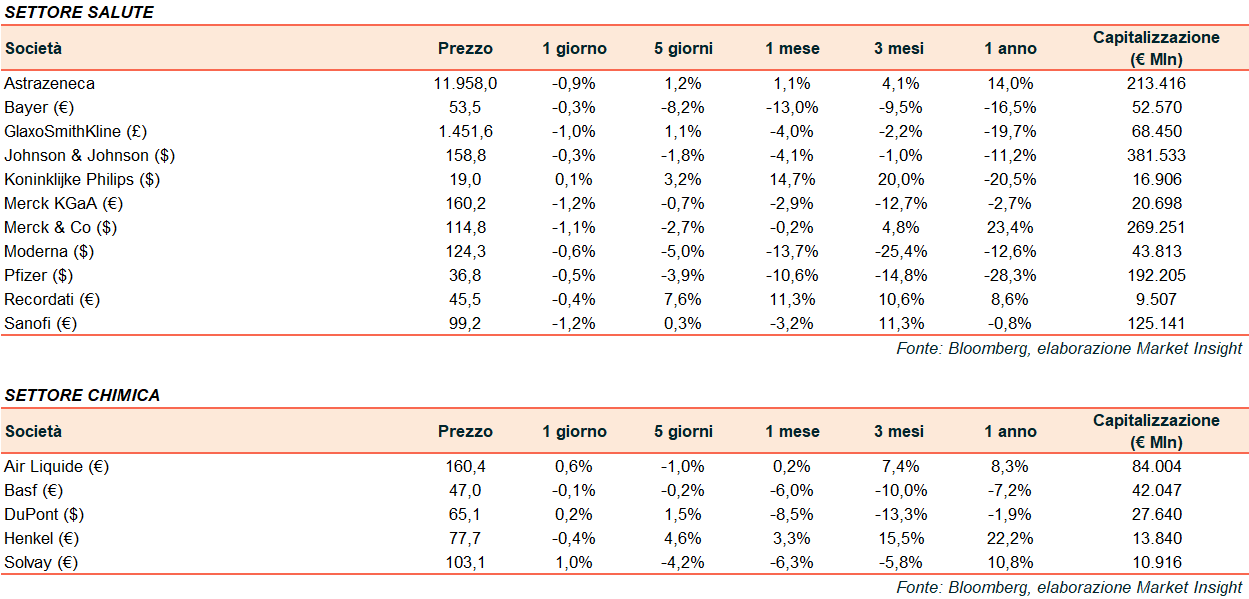 Giornata priva di direzione per i mercati azionari: il FTSE Mib segna un -0,1%, il Dax 30 un +0,3%, il Cac 40 un -0,1% e il FTSE 100 un -0,4%. Oltreoceano l'S&P 500 registra un +0,3% e il Dow Jones un +0,2%, come il Nasdaq.
AstraZeneca (-0,9%) ha deciso di lasciare il principale gruppo di lobby farmaceutico statunitense, il Pharmaceutical Research and Manufacturers of America (PhRMA), e perseguire altri modi di impegnarsi nella difesa a livello statale e federale.
Philips (+0,1%) ha annunciato che una revisione indipendente effettuata sul 95% dei suoi respiratori, oggetto di un richiamo globale per sospetto di tossicità, ha mostrato rischi per la salute limitati. Lo studio ha mostrato che l'esposizione alle emissioni di particolato dal componente in schiuma era "improbabile che causasse danni misurabili alla salute del paziente". La controversia è sorta nel giugno 2021 con il ritiro di milioni di ausili respiratori e ventilatori utilizzati per l'apnea notturna, a causa del rischio di degradazione e tossicità dei componenti della schiuma che potrebbero diventare cancerogeni. Philips sta ancora lavorando a un accordo con la Food and Drug Administration (FDA), l'autorità sanitaria statunitense, ed è sotto inchiesta da parte del Dipartimento di Giustizia statunitense.
Pfizer (-0,5%) prevede di raccogliere 31 miliardi di dollari da un'offerta di debito per finanziare la proposta di acquisizione di Seagen. L'azienda farmaceutica americana ha infatti siglato un accordo da 43 miliardi di dollari a marzo per acquisire Seagen e le sue terapie antitumorali mirate.