Si riporta l'andamento odierno dei principali titoli internazionali del settore relativo ai beni di consumo: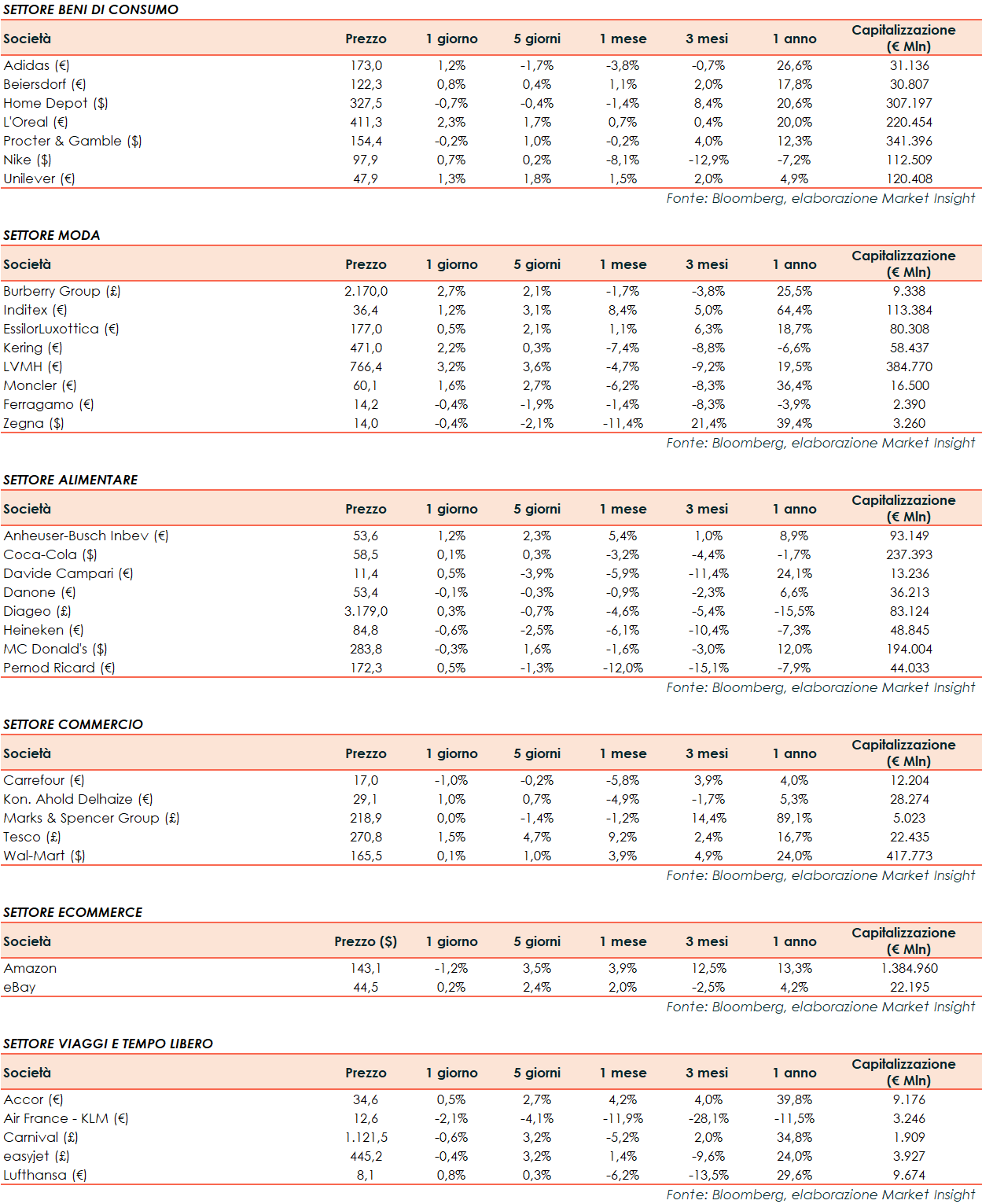 Chiusura di settimana positiva per gli indici europei: il FTSE Mib segna un +0,2%, il Dax 30 un +0,8%, il Cac 40 un +0,3% e il FTSE 100 un +0,8%. Al contrario, oltreoceano, l'S&P 500 registra un -0,5%, il Dow Jones un -0,1%, e il Nasdaq un -0,7%.
H&M ha realizzato ricavi nel terzo trimestre pari a 60,9 miliardi di corone svedesi (+6%) inferiori ai 63,5% previsti dagli analisti, che prevedevano 63,5 miliardi. Escludendo i dati di Russia, Bielorussia e Ucraina, le vendite hanno registrato un incremento dell'8%.
Royal Bank of Canada ha confermato il giudizio Sector Perform su Kellogg (+0,2%) con tp a $70.
Amazon Web Services è stata selezionata dal gruppo di giochi sportivi FanDuel come fornitore cloud strategico per alimentare la crescita in nuovi mercati negli Stati Uniti e in Canada.
Morgan Stanley ha promosso Marks and Spencer Group da Equal Weight a Overweight.
Il vettore low-cost Spirit Airlines (+1,6%) ha abbassato le previsioni sui ricavi del terzo trimestre per tenere conto dell'aumento dei prezzi del carburante.