Si riporta l'andamento odierno dei principali titoli internazionali del settore della Sanità e della Chimica.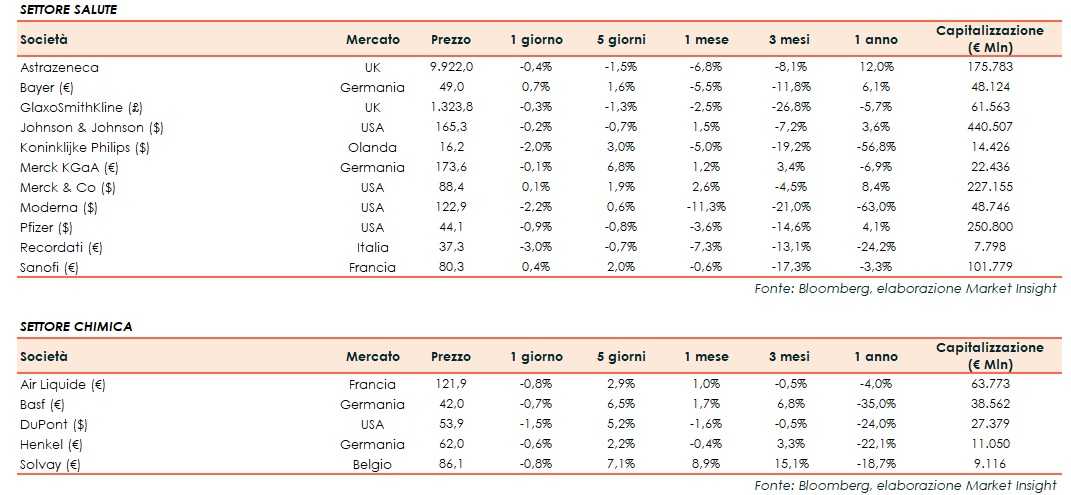 Giornata negativa per i mercati azionari: in Europa, il Ftse Mib cede il 2%, il Dax l'1,4% e il Ftse 100 lo 0,8%. A Wall Street, il Nasdaq perde l'1,8%, lo S&P 500 l'1,4% e il Dow Jones lo 0,9%.
Omega Diagnostics vola con un +23% alla Borsa di Londra spinta dai dati positivi emersi da un rapporto sulla performance, diffuso dall'OMS, relativo a un test di sua produzione per le malattie infettive.
DiaSorin (-2,1%), attraverso la controllata DiaSorin Molecular, collaborerà con il BARDA per supportare la convalida clinica del LIAISON NES, la nuova piattaforma Point of Care (POC) molecolare CLIA-waived per la diagnosi di prossimità delle malattie infettive, e ottenerne l'approvazione 510(k) da parte della Food and Drug Administration (FDA).
L'Agenzia europea per i medicinali (Ema) ha iniziato una "revisione continua" del vaccino anti covid di Pfizer (-0,9%) – BioNTech (-1,1%), adattato per le sotto-varianti Omicron Ba.4-5, nella fascia 5 – 11 anni. Inoltre un gruppo di esperti del ministero della salute giapponese ha raccomandato l'approvazione di questo vaccino per i bambini di appena sei mesi.