Si riporta l'andamento odierno dei principali titoli internazionali del settore beni di consumo.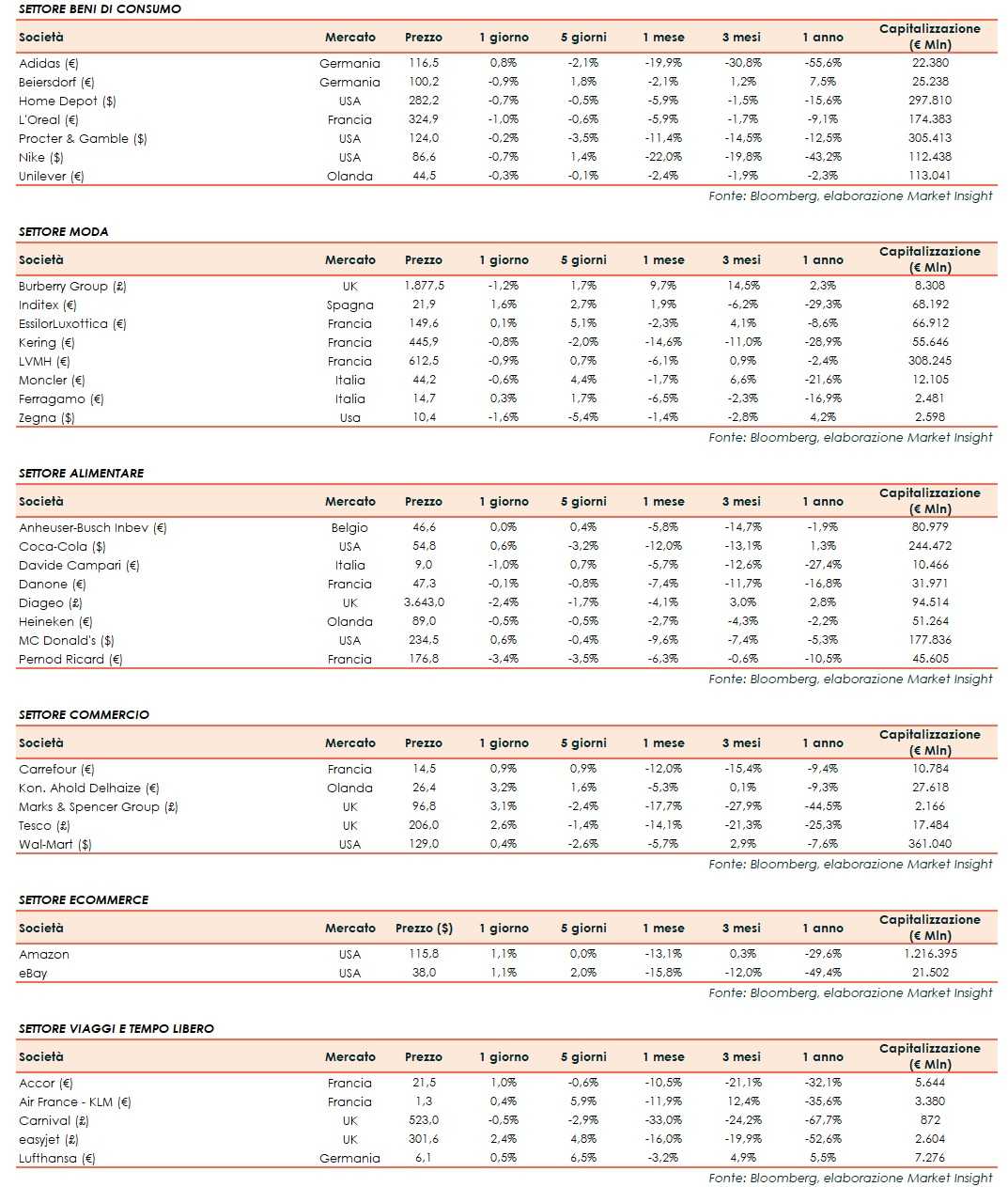 Giornata debole per i mercati azionari: in Europa, il Ftse Mib cede lo 0,4% e il Ftse 100 lo 0,2%, mentre il Dax avanza dello 0,3%. A Wall Street, il Nasdaq perde lo 0,7% e lo S&P 500 lo 0,3%, mentre il Dow Jones sale dello 0,2%.
Goldman Sachs ha tagliato il rating su Procter & Gamble (-0,2%) a 'neutral' da 'buy'.
L'aggiornamento di easyJet (+2,4%) di giovedì si focalizzerà sulle prenotazioni invernali, sui costi legati alle interruzioni e sulle tariffe, affermano gli analisti di Bank of America. Il budget della compagnia aerea dovrebbe evidenziare una capacità del 4° trimestre pari al 90% dei livelli del 2019, in linea con la guidance, con un fattore di carico del 92%, inferiore di due punti percentuali rispetto a tre anni fa, aggiungono gli esperti.
Moncler (-0,6%) presenta 7 re-interpretazioni della giacca Moncler Maya 70 scattate dal fotografo Platon. La nuova campagna verrà svelata per la prima volta mercoledì 12 ottobre in occasione della mostra che avrà luogo a Londra per il progetto The Extraordinary Expedition, "un viaggio multisensoriale nel passato, presente e futuro di Moncler".