Si riporta l'andamento odierno dei principali titoli internazionali del settore energetico e delle utilities: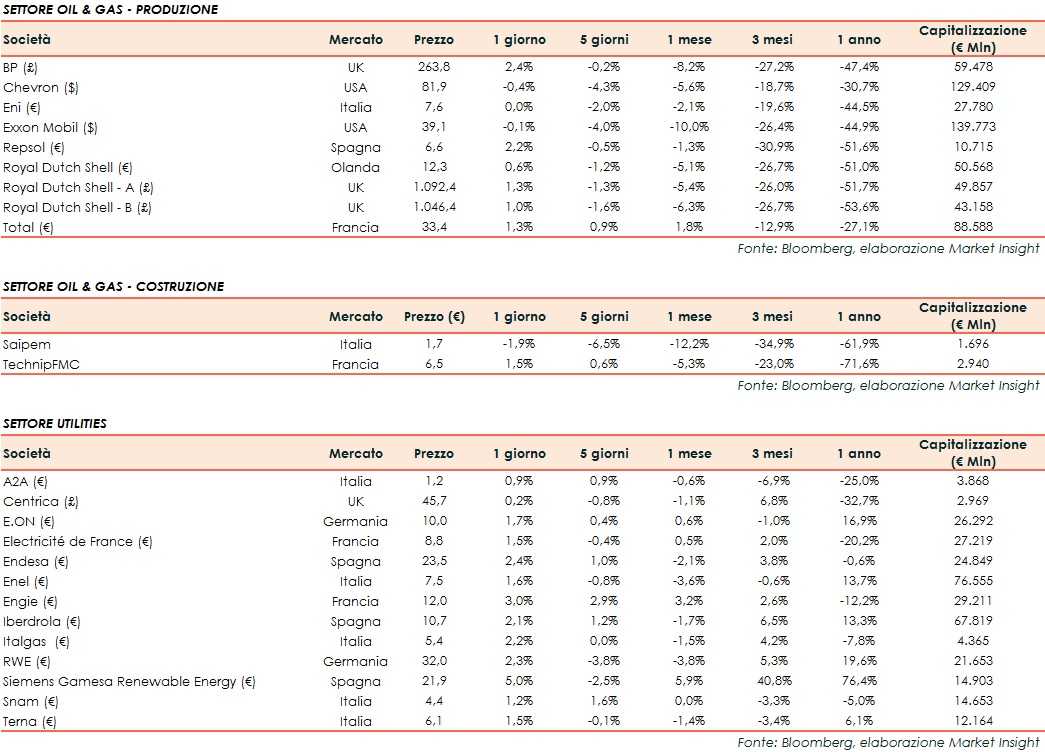 Giornata di acquisti per le borse europee: il Ftse Mib guadagna l'1,5%, il Dax 30 l'1,9%, il Ftse 100 l'1,7% e il Cac 40 l'1,7%. Chiusa Wall Street per la festività del Labor Day, pertanto le variazioni dei titoli statunitensi sono riferite alla giornata di venerdì.
Total (+1,3%) ha notificato ai suoi partner le dimissioni dal suo ruolo di operatore per cinque blocchi esplorativi, situati nel bacino di Foz do Amazonas, al largo del Brasile. Si apre ora un periodo di 6 mesi durante il quale verrà nominato un nuovo operatore e al quale verranno affidate le attività svolte. Nel frattempo la società continuerà a monitorare tutti i processi normativi per conto dei suoi partner Petrobras e BP.
Saipem (+1,7%) ha siglato con Fincantieri un Memorandum of Understanding per analizzare le potenzialità dello sviluppo del mercato Deep Sea Mining (DSM), ovvero l'utilizzo sostenibile delle risorse dai fondali marini oltre i 3.000 metri di profondità. 
E' tornata ad A2A (+0,9%) la gara da 1,37 miliardi per la distribuzione del gas del Comune di Milano torna a Unareti. Il Consiglio di Stato ha infatti annullato la sentenza del TAR della Lombardia che a dicembre scorso aveva dichiarato illegittima l'aggiudicazione ad A2A (poi Unareti).
Endesa (+2,4%), attraverso la divisione energie rinnovabili Enel Green Power Spain, ha collegato alla rete un parco eolico da 51 MW. L'investimento associato a questo progetto è di 57 milioni di euro e l'impianto produrrà 144 GWh all'anno, evitando emissioni in atmosfera di circa 95.000 tonnellate di CO2.
Enel (+1,6%) in collaborazione con The European House – Ambrosetti ha realizzato lo studio "Circular Europe. Come gestire con successo la transizione da un mondo lineare a uno circolare" da cui emerge che l'economia circolare è in grado di generare impatti positivi sul PIL, occupazione, investimenti, produttività del lavoro e svariati benefici ambientali.
Italgas (+2,2%) da metà di settembre darà il via alla sostituzione dei circa 45mila contatori tradizionali con misuratori di ultima generazione (smart meter) in Sardegna.
Siemens Gamesa Renewable Energy (+5%) la scorsa settimana si è aggiudicata due nuovi siti eolici onshore in Texas (USA) con una capacità installata totale di 325 MW. I progetti includono la fornitura di 65 turbine eoliche SG 5.0-145 e un contratto di servizio pluriennale.
Snam (+1,2%) in collaborazione con The European House – Ambrosetti ha realizzato lo studio "H2 Italy 2050: una filiera nazionale dell'idrogeno per la crescita e la decarbonizzazione dell'Italia" da cui emerge che l'Italia può utilizzare a proprio vantaggio l'idrogeno sia per raggiungere i target di decarbonizzazione sia per creare nuove forme di competitività industriale.