Si riporta l'andamento odierno dei principali titoli internazionali del settore relativo ai beni di consumo.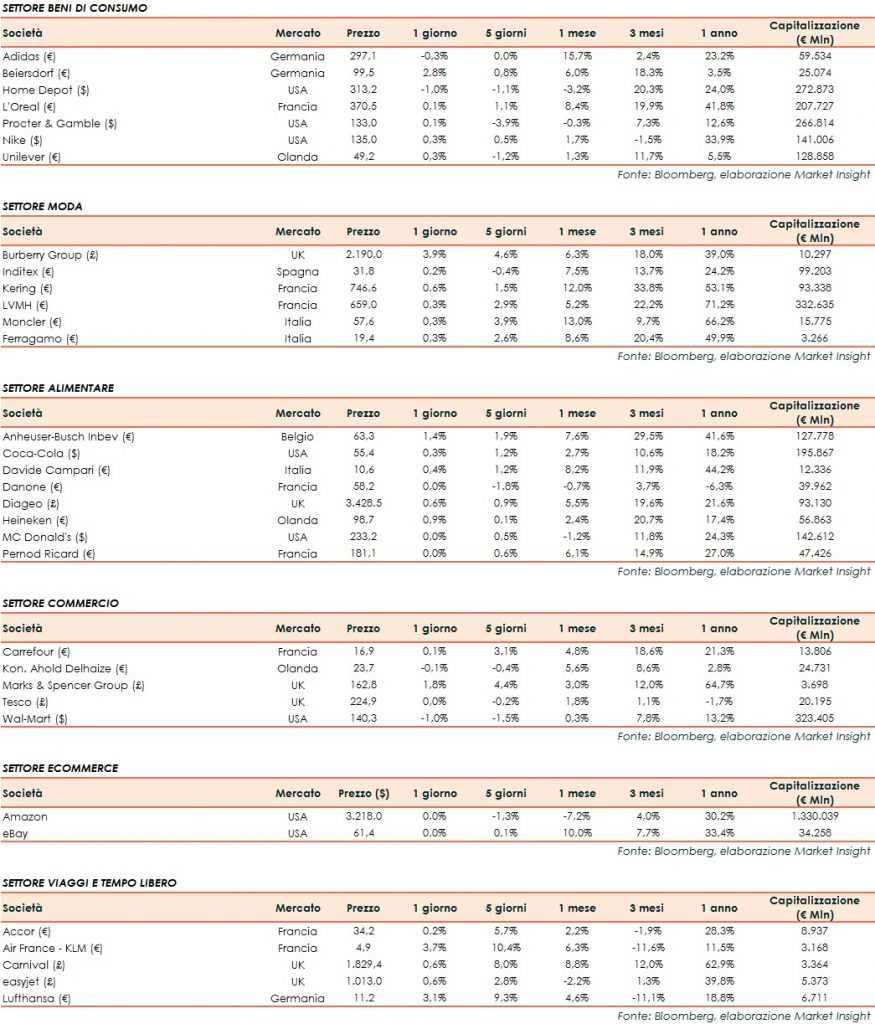 Giornata in lieve rialzo per i mercati azionari: in Europa, il Ftse Mib segna un +0,04%, il Dax un +0,08% e il Ftse 100 un +0,12%. A Wall Street, il Dow Jones guadagna lo 0,18%, lo S&P 500 lo 0,2% e il Nasdaq lo 0,13%.
In evidenza Burberry che rimbalza (+3,9%) dalla seduta precedente.
Inditex (+0,2%) ha stretto un accordo con Inbest SOCIMI, comproprietario dell'emblematico Edificio España a Madrid, per aprire Zara, Zara Home e Stradivarius nella nuova galleria commerciale, ora in fase di ristrutturazione. I tre brand occuperanno oltre 9.000 metri quadrati, a cui si affiancherà un'area pedonale ampliata e oltre 1.300 alberi di nuova piantumazione, con un nuovo parcheggio interrato. Il piano è di aprire i negozi nel 2022.
Coca-Cola (+0,3%) è il primo partner di implementazione globale per il progetto River di The Ocean Cleanup. La partnership unisce la rete globale di Coca-Cola con le soluzioni di supporto tecnologico di The Ocean Cleanup per 15 fiumi in tutto il mondo, impedendo ai rifiuti plastici di entrare negli oceani.
Carrefour (+0,1%) ha annunciato che 106 negozi Carrefour City in Francia metteranno a disposizione dei propri clienti contenitori per la raccolta di mascherine, che verranno trasformati in granuli di polipropilene e utilizzati per applicazioni specifiche, come la produzione di componenti in plastica per le auto. Il servizio di riciclo sarà disponibile per 14 settimane, fino alla fine dell'estate. L'obiettivo è quello di raccogliere più di 700 mila mascherine usate.
Nel settore viaggi e tempo libero, denaro in particolare su Air France – KLM (+3,7%) e Lufthansa (+3,1%), che consolidano la già positiva precedente seduta.