Si riporta l'andamento odierno dei principali titoli internazionali del settore industriale: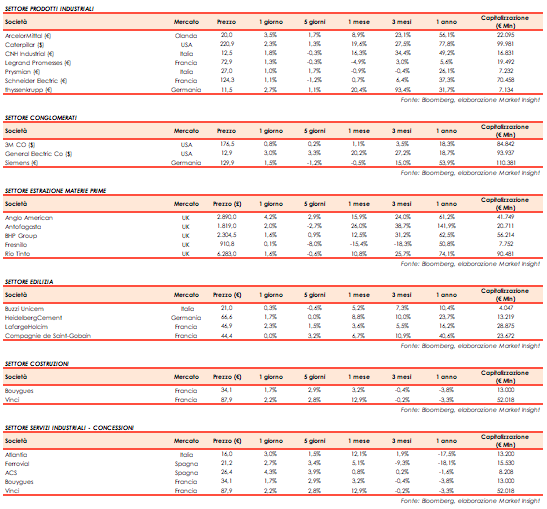 Gli eurolistini proseguono in territorio positivo, sostenuti dalla partenza in rimonta di Wall Street dopo le vendite della scorsa ottava. Il Ftse Mib avanza dell'1,2%, il Dax +1,1%, il Ftse 100 di Londra +1,3% e il Cac 40 di Parigi +1,3%. Rialzi superiori a un punto percentuale anche per Dow Jones +1,6%, S&P 500 +1,5% e Nasdaq +1,2%.
Dopo la presa visione dell'offerta vincolante per l'acquisto dell'intera partecipazione dell'88% del capitale detenuta da Atlantia in Autostrade per l'Italia dal consorzio composto da CDP Equity, The Blackstone Group International Partners e Macquare Infrastructure and Real Assets LTD, il Cda di Atlantia ha reputato l'offerta inferiore alle attese e non coerente. Il titolo in rialzo a Piazza Affari (+3%) che sconta un'offerta più elevata.
Thyssenkrupp ha lanciato una nuova divisione denominata Automotive Body Solutions che si focalizzerà su soluzioni di assemblaggio e componenti della carrozzeria leggere per il settore automotive.
Rio Tinto continua ad investire nella regione Pilbara (Australia) per l'estrazione di ferro. Dalla fine del 2019 sono stati investiti $1 miliardo. Si ha avuto una riduzione di emissione di gas serra pari al 3,5%.