Si riporta l'andamento odierno dei principali titoli internazionali del settore media: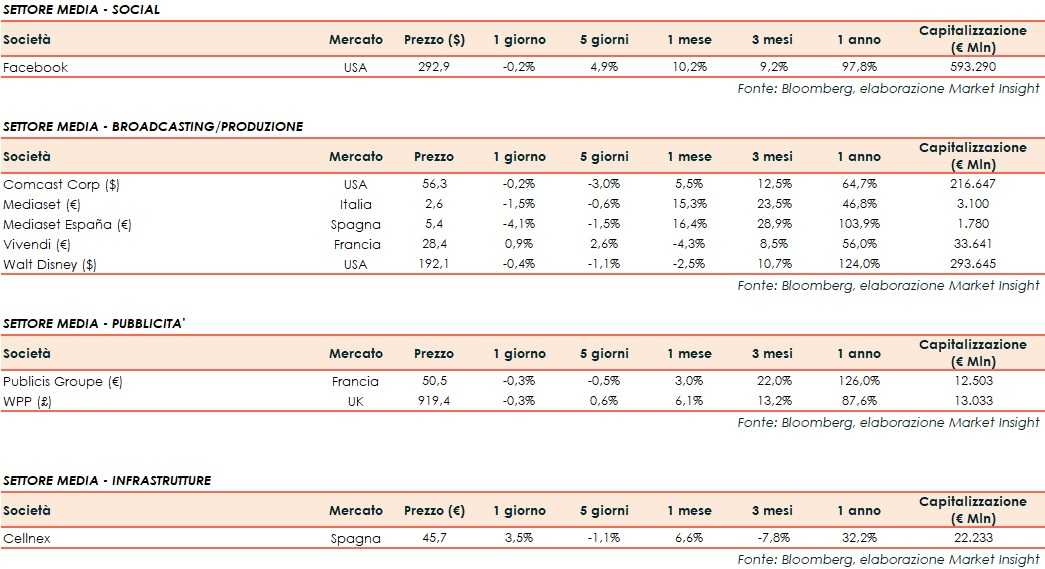 Giornata debole per i mercati azionari. In Europa, il Ftse Mib cede lo 0,5% e il Ftse 100 lo 0,1%, mentre il Dax guadagna lo 0,4%. A Wall Street, lo S&P 500 oscilla sulla parità mentre il Nasdaq arretra dello 0,2%.
Truist Securities ha ribadito la raccomandazione 'buy' su Walt Disney (-0,4%) dopo il nuovo accordo sui diritti della National Football League.
Walt Disney ha comunicato che "The Falcon and The Winter Soldier" è stata la prima serie più vista finora per il suo servizio di streaming Disney+.
Il primo tweet del Ceo di Twitter (+0,1%), Jack Dorsey, messo in vendita come token non fungibile, è stato ceduto per circa 2,9 milioni di dollari. Dorsey ha detto che convertirà il ricavato in bitcoin e poi lo donerà al fondo Give Directly's Africa Response.