Si riporta l'andamento odierno dei principali titoli internazionali dei settori della Sanità e della Chimica: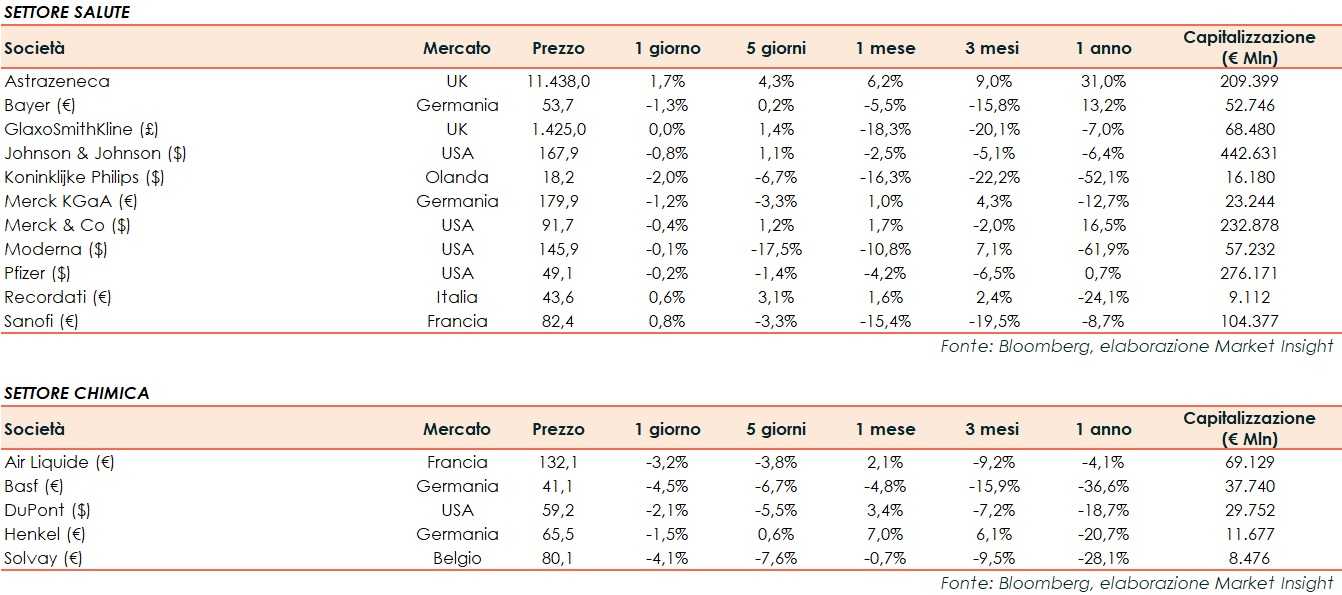 Giornata negativa per i mercati azionari: in Europa, il Ftse Mib cede l'1,9%, il Dax il 2,3% e il Ftse 100 lo 0,2%. A Wall Street, il Nasdaq perde l'1,9%, lo S&P 500 l'1,5% e il Dow Jones l'1,3%.
La FDA statunitense ha chiesto a Pfizer (-0,2%) di testare gli effetti di un ciclo aggiuntivo del suo antivirale Paxlovid tra le persone che sperimentano un ritorno del COVID-19 dopo il trattamento.
Il produttore di farmaci deve produrre i risultati iniziali di uno studio randomizzato controllato di un secondo ciclo di antivirale entro il 30 settembre del prossimo anno, ha detto la FDA a Pfizer in una lettera datata 5 agosto.
La decisione segue le segnalazioni di infezioni o sintomi virali ricorrenti, o entrambi, dopo la prima infezione, inclusi il presidente Joe Biden e il direttore del National Institute of Allergy and Infectious Diseases, Anthony Fauci.