Si riporta l'andamento odierno dei principali titoli internazionali del settore energetico: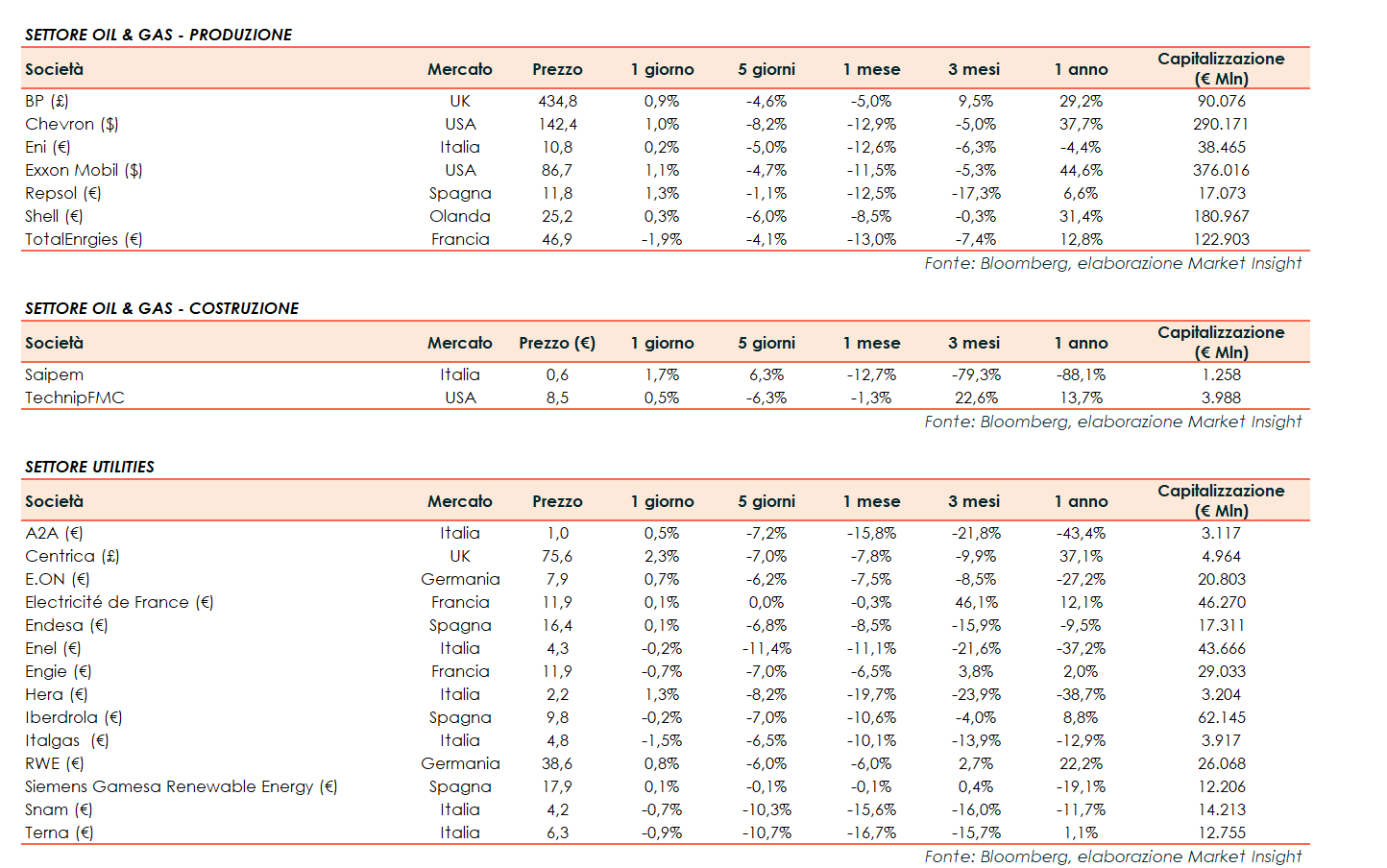 Giornata ancora debole per i mercati azionari europei: il Ftse Mib cede lo 0,8% e il Dax lo 0,2%, mentre il Ftse 100 avanza dello 0,1%. A Wall Street, S&P 500 e Dow Jones guadagnano lo 0,3% e il Nasdaq oscilla sulla parità.
In rialzo le quotazioni del greggio, con il taglio della produzione negli Stati Uniti a causa dell'uragano Ian che compensa l'apprezzamento del dollaro e l'aumento delle scorte evidenziato dal report settimanale Api.
Nel Golfo del Messico è stata interrotta la produzione di circa 190.000 barili al giorno di petrolio, pari all'11% del totale dell'area, a causa dell'uragano Ian, secondo l'autorità di regolamentazione offshore, il Bureau of Safety and Environmental Enforcement (Bsee).
L'attenzione degli operatori si sposterà ora sulla riunione dell'Opec+ in programma il 5 ottobre, da cui alcuni analisti si attendono l'annuncio di un nuovo taglio alla produzione alla luce del recente crollo del petrolio.
I prezzi del greggio sono crollati di circa il 40% dai massimi dell'anno toccati in seguito allo scoppio della guerra in Ucraina, colpendo i profitti di alcune compagnie petrolifere, alcune delle quali appartenenti a paesi Opec.
Secondo alcune indiscrezioni, la Russia dovrebbe proporre una riduzione dell'offerta di circa 1 milione di barili al giorno, con le forniture da parte di Mosca che dovranno anche scontare le sanzioni dell'Occidente.
TotalEnergies distribuirà agli azionisti un dividendo speciale di 1 euro per azione a dicembre, grazie alle entrate nelle sue casse legate ai maggiori prezzi oil&gas. Il gruppo francese aumenterà, inoltre, il suo piano di investimenti da 14 a 18 miliardi di dollari all'anno fino al 2025, con tutti gli investimenti addizionali che si concentreranno nella riduzione delle emissioni della società o sulla generazione di energia carbon-free.