Si riporta l'andamento odierno dei principali titoli internazionali del settore media: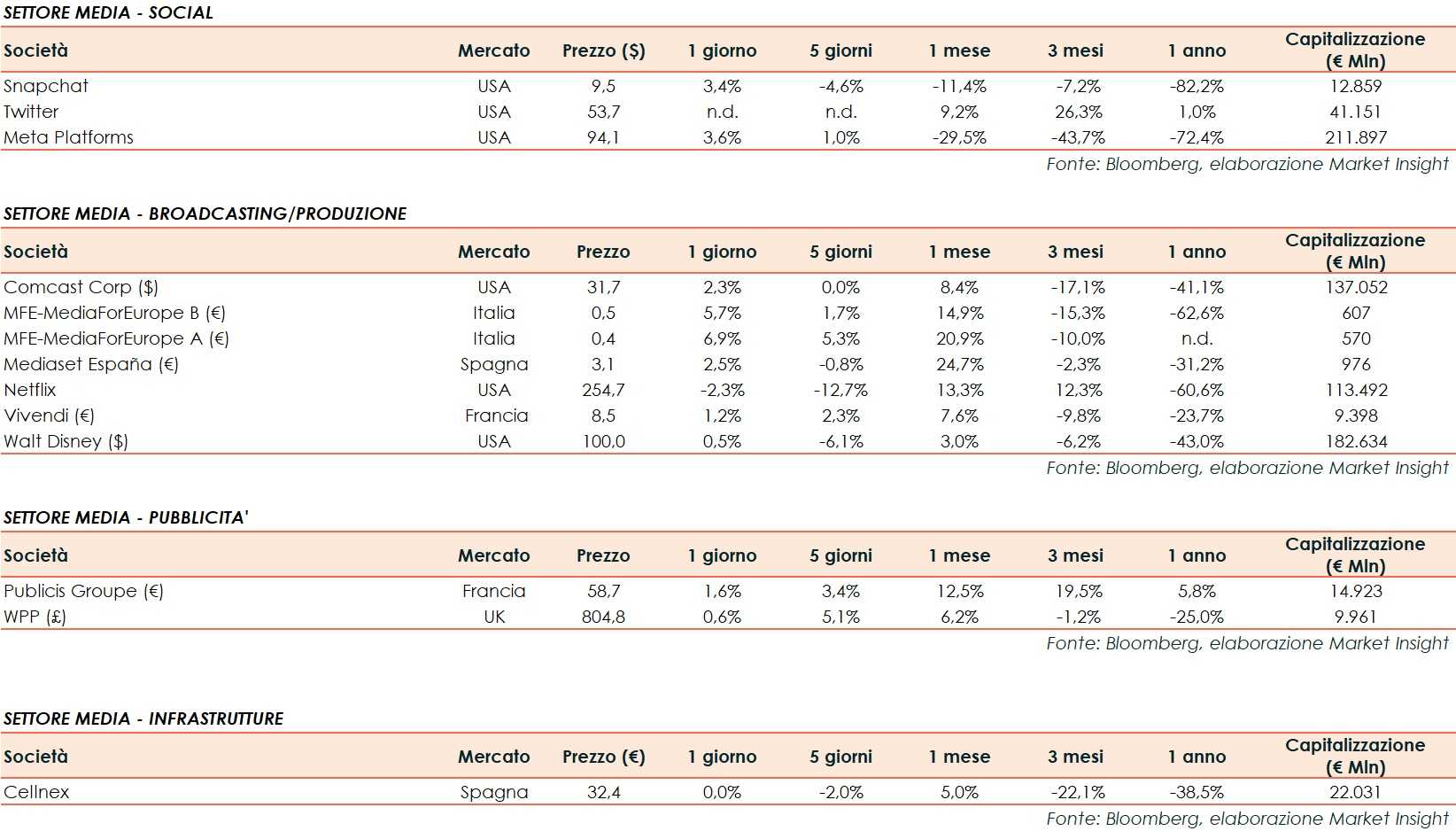 Giornata incerta per i mercati europei, con il Ftse Mib a +0,7%, il Dax a +0,5% e il Ftse 100 a -0,3%. Avvio cauto per i listini americani, con il Dow Jones a +0,2%, lo S&P500 a +0,2% e il Nasdaq a +0,1%.
Vivendi (+1,2%), primo azionista di Tim con il 23,7%, apre alle discussioni sulla creazione di una rete unica di telecomunicazioni a controllo statale, apertura che segue le parole di sabato del sottosegretario del governo all'Innovazione tecnologica, Alessio Butti, secondo cui il tema rappresenta una priorità del nuovo governo.
WPP (+0,6%) ha pubblicato la sua classifica BAV e l'analisi dei Migliori Paesi del 2022. L'Australia è stata classificata come il settimo miglior paese al mondo e la Nuova Zelanda al dodicesimo posto tra i Migliori Paesi del 2022. I risultati di quest'anno saranno presentati all'evento globale BAV® Follow the Sun il 17 novembre 2022.
Sempre il prossimo 17 novembre si terrà a Milano l'11° edizione del Forum WPP – The European House – Ambrosetti sul tema "Innovazione e Tecnologia per comunicare l'Italia di domani", evento punto di riferimento per le imprese, le istituzioni e tutti gli operatori che lavorano nel mondo dei servizi di marketing e comunicazion.