Si riporta l'andamento odierno dei principali titoli internazionali del settore media: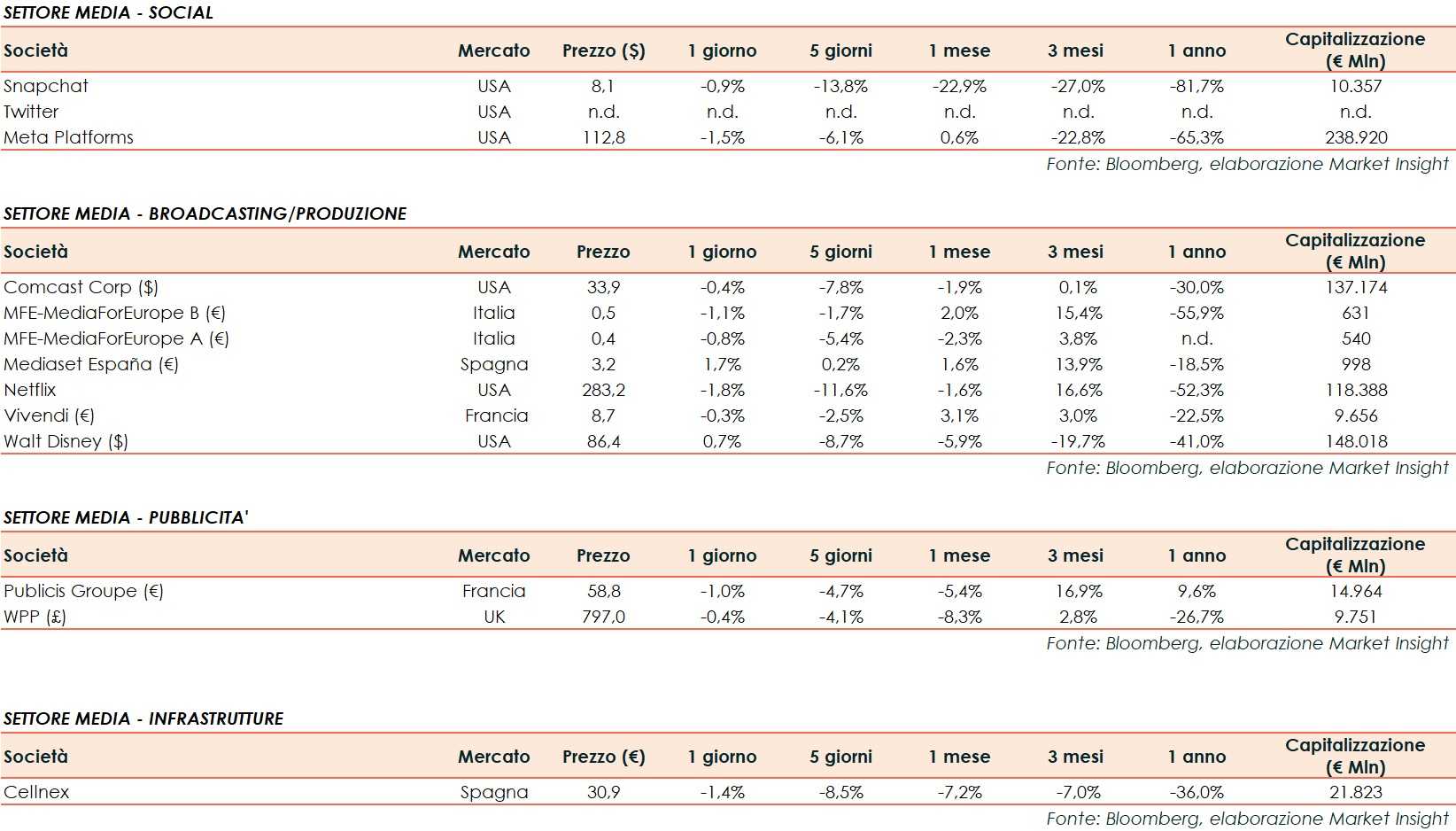 Giornata debole per i mercati azionari: in Europa, il Ftse Mib cede lo 0,1%, il Dax lo 0,6% e il Ftse 100 oscilla sulla parità. A Wall Street, il Nasdaq perde lo 0,8%, lo S&P 500 lo 0,5% e il Dow Jones lo 0,3%.
La Commissione Europea ha assegnato a Cellnex (-1,4%) 6 progetti per sviluppare un'infrastruttura 5G su alcuni dei principali corridoi di trasporto transfrontalieri in Europa. Si tratta di 2 corridoi tra Spagna e Francia (Barcelona – Montpellier/Toulouse and Bilbao – Bordeaux) e di 2 corridoi che collegano Spagna e Portogallo (Salamanca – Porto – Vigo and Me'rida – E'vora). A questo si aggiungono 2 studi di fattibilità per il corridoio autostradale che collega l'Italia con l'Austria (Udine/Carnia/Tarvisio e della porzione transfrontaliera con l'Austria).
Publicis Groupe (+1%) si è aggiudicata la gara media avviata a giugno da Swarovski per 33 Paesi in diversi continenti con la consulenza di Auditstar. In Italia, così come in altre country, l'incarico sarà gestito da Zenith, a partire dall'1 gennaio 2023. L'incarico include strategia media, planning, buying e performance media. A Zenith è stato affidato il compito di "promuovere le sinergie tra il marchio e le prestazioni, migliorando al contempo l'esperienza del consumatore per accelerare la crescita del business di Swarovski".
Netflix (-1,8%), lo scorso novembre, ha lanciato un nuovo abbonamento con pubblicità al costo di 5,49 euro al mese che però non sta dando i risultati sperati. Secondo quanto riportato su Digiday, il gigante dello streaming non è riuscito a garantire agli investitori il numero di spettatori necessario per farli rientrare dei loro investimenti.  Questo succede perché Netflix utilizza una struttura su base "pay on delivery", in cui gli inserzionisti pagano solo per gli spettatori effettivamente raggiunti dalle pubblicità e Netflix deve rimborsare tutto il non speso al termine di ogni trimestre. Alcuni inserzionisti stanno chiedendo di riavere velocemente quanto investito, in modo da poter reinvestire in pubblicità durante il periodo natalizio e non perdere un momento così importante per le vendite. Altri stanno richiedendo di essere completamente rimborsati, perché per loro era importante che tali pubblicità venissero pubblicate durante il quarto trimestre dell'anno. Altri ancora, invece, hanno richiesto di spostare i propri investimenti in pubblicità nel primo trimestre del 2023, perché credono che l'audience del piano a pagamento sia destinata a crescere nel tempo.